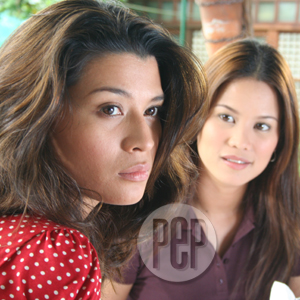 ---
Are you mature enough for these?

The University of the Philippines College of Mass Communication (UP CMC) hosts a film festival titled Director's Cut: Mga Eksenang Dapat Mong Nakita Pero... from March 5 to 7 at the UP Cine Adarna.
Nine controversial films will be shown for three days. These are the uncut versions of Bakit May Kahapon Pa? (directed by Joel Lamangan), Laman (Maryo J. de los Reyes), Ang Lalake sa Parola (Jay Altarejos), Duda/Doubt (Cris Pablo), Rome and Juliet (Connie Macatuno), Twilight Dancers (Mel Chionglo), La Vida Rosa (Chito Roño), Tuhog (Jeffrey Jeturian) and Live Show (Jose Javier Reyes).

Among these directors, Maryo J. De los Reyes, Cris Pablo, Connie Macatuno, Chito Roño and Jeffrey Jeturian are graduates of UP CMC.
Bakit May Kahapon Pa? (March 5, 5 p.m.) is about a woman traumatized as a child by the massacre of her family in the 1970s, who plans revenge on the responsible military officer. Laman (March 5, 7 p.m.) focuses on a young couple's problems, mainly caused by a rich businesswoman who lusts for the husband and a gigolo who seduces the wife. Ang Lalake sa Parola (March 5, 9 p.m) is the story of a lighthouse caretaker who falls in love with another man as the caretaker's girlfriend struggles to win him back.
Duda/Doubt (March 6, 5 p.m.) is a tale of infidelity and deception in a relationship between two men while Rome and Juliet (March 6, 7 p.m.) is a romantic journey of two women caught in a web of forbidden and unconventional love. Given an X rating by the Movie and Television Review and Classification Board (MTRCB), Twilight Dancers (March 6, 9 p.m.) is a social commentary packaged as a sexy movie about a macho dancer who is pressured to "dance" to the tune of the new global economy.
ADVERTISEMENT - CONTINUE READING BELOW
La Vida Rosa (March 7, 5 p.m.) is about a couple's dangerous life as con artists becoming more complicated as one insists on retiring. Tuhog (March 7, 7 p.m.) is a disturbing yet entertaining movie within a movie where a mother and daughter are abused twice—first by a rapist who happens to be a family member and then by incompetent filmmakers.
Considered "most controversial" in Philippine filmmaking history, Live Show (March 7, 9 p.m.) is a story of poor Filipinos forced to perform sexual acts in front of paying customers. The film exposes the shocking and depressing truth about live sexual performers or torreros and what goes on in sleazy quarters where couples play toro for pay.
An open forum with the director and other guests follows every screening of the film.
The film festival is part of the UP's centennial celebration. Sponsorship packages are available for interested companies. For details, please contact Dr. Arminda Santiago or Prof. Ma. Rosel San Pascual at 920-6864 or 920-6867.