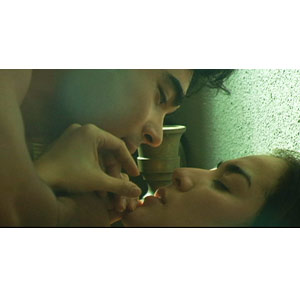 ---
The theme of life in prison seems to be prevalent in the local entertainment scene. Treatments range between Ditsi Carolino's gritty award-winning documentaries on juvenile prisons to the phenomenal YouTube video showing Cebu prison inmates dancing to the tune of popular Michael Jackson songs.
All of them present their own side of reality. That's why feature films have ways of expounding on "reality" that other means cannot. But sometimes fiction has its own truth and is a better picture of reality. This is where Selda, a film by Ellen Ramos and Paolo Villaluna, excels.
The indie film Selda is able to tackle and show the issue of rape between prison inmates. The controversial rape scene received flak from the Movie and Television Review and Classification Board for being too graphic. In fact, it was reported here in PEP (Philippine Entertainment Portal) that the rating of Selda was originally X (unfit for public viewing) but was later changed to R-18. The MTRCB reviewers were then able to reach a compromise with the filmmakers regarding the final cut, which will be shown at IndieSine until March 11.
The film's story expounds on the complexities of human relationships today while showing the grim truth behind bars. Why does tragedy bond some relationships and tear others apart? Do we choose the people we love or does love find us?
The audience is far more involved because the main character named Rommel (Sid Lucero) is the sympathetic boy-next-door type of guy. Sid has that quality that enables audiences to relate to him. The sensuous Ara Mina plays his love interest Sita. The couple is deeply in love and has plans of settling down. One day, Sita's handbag gets stolen in the streets of Malate and Rommel chases the thief. The snatcher turns out to be a twelve-year-old boy who gets run over in the process of trying to escape. Rommel is charged with manslaughter and sent to prison.
ADVERTISEMENT - CONTINUE READING BELOW
While being transported to prison, Rommel is seen handcuffed in a cramped white utility van. But none of it compares to what awaits him behind bars. Inmates squat patiently, holding various forms of plastic containers waiting for their daily meal of goop (usually lugaw). Five inmates share a 3x4 meter cell. It has two bunk beds on each side while the fifth inmate sleeps on a hammock in between. A hole on the floor in one corner shielded by a wall of tiles serves as their latrine. Sid makes the audience feel how pitiful it is to languish in jail especially since his "crime" was only in trying to protect his fiancé.
Sid and Ara join a distinguished cast of veteran actors. A villainous Michael De Mesa plays Warden Ramos. The veteran actor plays the abusive role to the hilt and gives Rommel a rude introduction to his territory. Allan Paule brilliantly plays Boy P., a character who is initially is friendly to Rommel but actually has a hidden agenda. Soliman Cruz and Ping Medina play Rommel's cellmates. Soliman is Mang Jon, who teaches Rommel how to survive in prison. The longtime resident of the prison also has his own dark secrets about his imprisonment.
Emilio Garcia has won both critical praise and audience admiration for his performance as Esteban. As Rommel gets lost in the gang wars and politics inside the prison system, he finds a protector in the person of Esteban. The role of Rommel's daughter Elena is played by Madeleine Red. The precocious eight-year-old girl is the daughter of Danny Red and niece of Cannes winner Raymond Red.
Cinematographer Odyssey Flores did an admirable job of shooting the contrasting scenes of incarceration and freedom. He is able to create an atmosphere of despair and confinement in the cramped spaces of the Rizal Provinicial Jail. He also shot the rural scenes with aplomb—showing the wide open spaces, grassy fields, and blue skies after Rommel's release.


After Rommel serves his jail term, Esteban seeks him out in order to define and explore the boundaries of their relationship. However, their path to discovery leads to tragedy.
ADVERTISEMENT - CONTINUE READING BELOW
Paolo Villaluna worked on the story and screenplay with Ellen Ramos and Leo Dominguez. Both Paolo and Ellen share co-directing duties while also working as the film's editors. The pair even wrote the lyrics to the soundtrack performed by Pike and Veena Ramirez.
Selda is a vivid eye-opener on the situation of prison inmates in the Philippines today. It is being shown at IndieSine, Robinsons Galleria, until March 11.