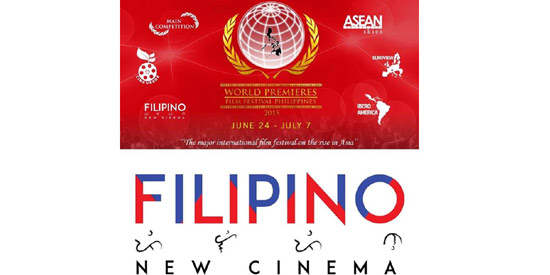 ---

The World Premieres Film Festival (WPFF) is now accepting entries for its second edition.

Organized by the Film Development Council of the Philippines, the 2nd WPFF will be held in Manila from June 24 - July 7, 2015.

Dubbed as a major international film festival on the rise in Asia, the WPFF aims to bring together cinemas from around the world for a distinct film festival like no other.

The WPFF envisions a festival of grand scale and scope that can foster new cultural alliances by bringing world class cinema to Asia. Participation in the festival will open doors to a dynamic Asian audience that will promote global cinema in the region.

Participating countries are asked to field a new film yet to be screened elsewhere prior to June 2015, from a noteworthy director, for a world premiere in the Philippines.

Feature films will vie for top awards, have red carpet screenings at the country's posh cinemas, all with film luminaries and celebrities in attendance, and are set for release and distribution beyond the festival run through the Philippines' largest cinema chain.

The WPFF is the next step in elevating the Philippine film industry and showcasing the cinemas of various nations in a festival that aims to be of the biggest international scope.


The "call for entries" for film submissions has already begun, with section deadlines as follows:

Main Competition entries – April 10, 2015

Cine Verde entries – April 17, 2015

Parallel Section entries (Euroview / Ibero-America / ASEAN Skies / Eurasian Cinescape) – April 17, 2015

Filipino New Cinema entries – May 6, 2015


Here are the various categories:


A. MAIN COMPETITION ENTRIES – Only films that have not been shown elsewhere prior to festival run are eligible for World Premieres Main Competition. They will compete for prestigious customary prizes, the winners for which are to be chosen by an international jury.

Films in Main Competition may vie for awards including:

1. Grand Festival Prize Grand Jury Prize
2. Best Performance by an Actor
3. Best Performance by an Actress
4. Best Artistic Contribution
5. Technical Grand Prize
6. Best Ensemble Performance

DEADLINE FOR SUBMISSION for the Main Competition entries -- April 10, 2015


B. CINE VERDE ENTRIES – Cine Verde showcases contemporary motion pictures that tackle environmental themes such as climate change, natural resources, and other scientific phenomenon. It attempts to change societal attitudes toward environmental issues through film. Films compete for the Cine Verde Prize for Best Environmental Feature.

DEADLINE FOR SUBMISSION for the Cine Verde entries – April 17, 2015


C. PARALLEL SECTION ENTRIES:


C.1. EUROVIEW – Euroview showcases films hailing from all over the European continent that focus on the various narratives that shape it.

C.2. IBERO-AMERICA -- Ibero-America exhibits films from the Spanish and Portuguese speaking countries of Latin America, highlighting the diverse storytelling in the region.

C.3. ASEAN SKIES -- ASEAN Skies features films from the ten member states of the Association of Southeast Asian Nations, seeking to connect the region via the corridors of cinema.

C.4. EUROSIAN CINESCAPE -- Focusing on this historic crossroads of politics and culture, the Eurasian Cinescape highlightS films from the vast and diverse landscape of Eurasia.

DEADLINE FOR SUBMISSION for the Parallel Sections entries – April 17, 2015


D. FILIPINO NEW CINEMA Entries -- Filipino New Cinema features five recent films from contemporary Filipino filmmakers who are looking to premiere their latest works before an international audience here in the Philippines.

Awards include film grants of varying amounts, Best Picture (1st and 2nd place), Best Screenplay, Best Cinematography, Best Editing, Best Musical Score, Best Sound Engineering, Best Production Design, and Best Performance by an Actor, Best Performance by an Actress, Best Supporting Actor, and Best Supporting Actress.

DEADLINE FOR SUBMISSION for the Filipino New Cinema -- May 6, 2015


To those who may want to submit their recently produced films, please join this festival that will run in the Philippines from June 24 - July 7, 2015.

ALL entry forms may be downloaded or filled out online at this website: www.wpff.ph.

Should you have any additional questions or concerns please contact the festival coordinator Quintin Cu-Unjieng at quintin_cuunjieng@wpff.ph.
ADVERTISEMENT - CONTINUE READING BELOW