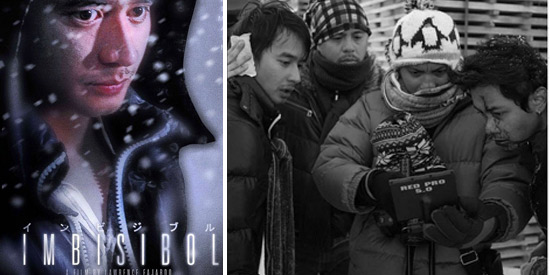 ---

Imbisibol is set in Japan during the Christmas season and tells the stories of OFWs who live and work there.

What sets this indie film apart from other OFW movies is the fact that it is based on a 2013 CCP Virgin Labfest production, with the same title, by Herlyn Gail Alegre. The play and movie versions were both directed by Lawrence Fajardo.

Produced by Brillante Mendoza and Wilson Tieng, Imbisibol is one of five entries to the first edition of the Sinag Maynila Film Festival.

It is an ensemble piece that tells the stories of Rodel (JM de Guzman), Manang Linda (Ces Quesada), Benjie (Bernardo Bernardo), and Manuel (Allen Dizon). They all have unique stories, reflecting the various struggles of Filipinos who labor abroad to earn enough to send back to their families.
Linda (Ces Quesada) is married to a Japanese man, Kazuya, who helps bring workers to Japan and houses them in the adjacent apartment building—they pay her back for loans that have landed them employment. The opening sequence shows only a kettle about to boil and voices of Linda and her husband arguing about the illegal workers that she is keeping. Trouble is brewing and, as the voices and kettle reach a crescendo, they come to a halt but not a real resolution.
Benjie (Bernardo Bernardo) is an aging employee who works two jobs to send enough money home to his wife and family. He rooms with Eduardo, played by Ricky Davao. They also care for their aging Japanese landlord. The two men have forged a deep relationship, a companionship that is disrupted by a single event.
Manuel (Allen Dizon) works as a hosto or someone who provides sexual services to women. He has been in the industry for a long time, even starring in some Japanese pornographic movies. But he is washed up and is now considered a has-been, as customers prefer younger, fresher faces. He is desperate to earn enough money to send to his family and to his estranged wife for the needs of his growing son.
ADVERTISEMENT - CONTINUE READING BELOW
Rodel (JM de Guzman) is a young laborer who wants nothing more but to work honestly and earn enough money to send back home for his daughter. He finds a foil in his Filipino superior, Dennis, who is threatened by the greenhorn.
The storytelling unfolds organically and quietly, structured much like many Japanese dramas (differentiated from anime and samurai films that most audiences may be more familiar with), with much left unsaid, but felt brewing just beneath the surface. There are no Filipino melodramatic hysterics here. The silences are pregnant with meaning and the visuals speak volumes.

Direk Lawrence, smartly, shows more than tells.
The cast is impeccable. Ces Quesada makes the enterprising Linda compassionate and not merely abusing the desperation of her countrymen. Later on, it is revealed, she, too, is caught in a web that she cannot escape, but for her, it is the family she has in Japan. Bernardo Bernardo and Ricky Davao tug at the heartstrings with their portrayal of hardworking, aging OFWs who find a home away from home in each other's company.

We cannot help but sympathize with Bernardo as he works two jobs and finds every opportunity to catch up on sleep. Allen Dizon's portrayal of an over-the-hill hosto makes us feel for the slimy character. He is not just out for a quick buck, he is motivated (as we all are) by our desire to give our families a better future. The depths of his desperation are best shown during the "Elves of Christmas" scene—no dialogue is spoken, but the scene hits hard.

JM de Guzman proves that his face can show nuances in moods and emotions. We laugh and cry with him. We, too, experience anguish and desperation. This film also showcases the ability of JM to engage in a pivotal action scene, a welcome surprise given his tendency to be cast as a boy-next-door romantic leading man.
ADVERTISEMENT - CONTINUE READING BELOW
Each of the characters--at the core--have the same motivation. It is one that is all too familiar to us. About 10 million-strong, Filipinos overseas are so unique in many ways—in their ties to the Motherland, their bonding together based solely on nationality, their all-encompassing love for family, and their ability to laugh at any situation. All of these are encapsulated in Imbisibol.

In the end, things come to a head for the illegals. It is open-ended yet inevitable. This movie deserves to be seen by every Filipino because it will surely resonate.

Imbisibol is one of five films featured in the 2015 Sinag Maynila film festival scheduled to run until March 24 at the following branches: SM Megamall, SM North EDSA, SM Manila, SM Fairview, SM Southmall, SM Mall of Asia and SM Aura.

The other films of Sinag Maynila include Paul Sta. Ana's Balut Country (about the heir to a duck farm who must decide between selling the property or saving the loyal caretakers), Zig Dulay's Bambanti (the search for a missing watch instigates the painful quest for the truth), Jim Libiran's Ninja Party (a sexually-charged film about high school students organizing anonymous orgies) and Remton Zuasola's Swap (about a young father torn between solving a crime and committing another crime to save his son).



Ed's Note: The "PEP Review" section carries the views of individual reviewers, and does not necessarily reflect the views of the PEP editorial team.