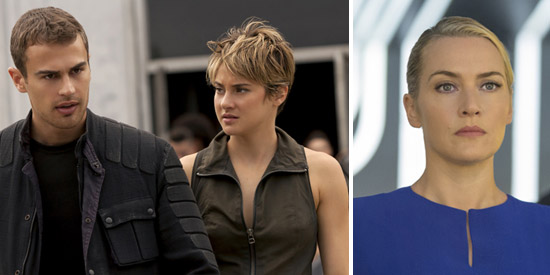 ---
You need not have seen the 2014 movie Divergent or read the books written by Victoria Roth on which the film series is based, to appreciate the newly released sequel Insurgent.
If you saw and liked the first film directed by Neil Burger, you'll find the experience of watching the part two of this now Robert Schwentke-directed movie a thrilling continuation of where Shailene Woodley's character Tris last left off.
According to The Hollywood Reporter, the change in director was prompted by Burger's admission that working on Divergent while also doing pre-production on Insurgent was "getting really complicated…There was no breathing room." Berger eventually felt that he had to let the sequel go. Enter The Time Traveler's Wife director Robert Schwentke to complete the second installment of The Divergent movie series.
Insurgent comes exactly a year later after Divergent's March 20, 2014 release.
In the current film, Tris now sports cropped hair, making her look more mature as if she "means business." Unfortunately, she does have a lot of business to attend to.
Tris--reeling from the deaths of her parents and the guilt of being the cause of it--is struggling with her internal fears and external chaotic circumstances: she must battle the Dauntless faction, and defeat Erudite leader Jeanine (played cold bloodedly by Kate Winslet), But most importantly, Tris must learn to face her own demons.
How all these were visually rendered and expressed is worth the price of the movie ticket. Add in 23-year old Shailene Woodley's affecting acting prowess and you get a sci-fi action movie that has breadth and emotional depth.
The movie balances acting heavyweights with relatively newbie performers the same way it proportionally doles out illogical plot twists and poignant scenes.
If you try not to mind the predictable, at times contrived story scenarios, expect to be entertained for 119 minutes.
ADVERTISEMENT - CONTINUE READING BELOW
Academy Award winner Octavia Spencer (who plays Johanna the leader of the Amity faction), Kate Winslet and Naomi Watts (who plays Tris' mother) give memorable performances and support to a predominantly young set of actors.
Why Winslet and Watts had to look gaunt and dehydrated compared to the fresh-faced Woodley is unknown, a mildly wild guess is that it was done to emphasize the latter's youth and the former's seniority. Why this is important is probably irrelevant.
Ansel Elgort - who played Shailene's love interest in the romantic film The Fault in Our Stars – reprises his role as Caleb, Tris' older brother. Though he eventually lets down his sister, his performance elicits sadness not anger.
Miles Teller as Peter, a character whose loyalty is downright questionable, is annoying and funny at the same time.
Theo James (who is cast as Tris' "scary boyfriend" Four) looks and sounds like a typical Hollywood male hero out to save the heroine although she needs very little help in this department. If not for Theo's uncanny resemblance to (more like a macho version of) James Franco, he would have been forgettable. Equally remarkable is that James is British and his American accent on the film is all an act, albeit an extremely believable one.
Insurgent is now playing in movie theaters nationwide. It is also currently being screened in the newly opened SM Light Mall – an extension of the SM Light Residences in Boni, Mandaluyong. The 150-seating capacity of Cinema 1 and the other two cinemas at SM Light give viewers an intimate and personal movie viewing experience. The crystal-clear images, firm-to-the touch and comfortable seats as well as the crisp sound system make movie-watching at SM Light more engaging.