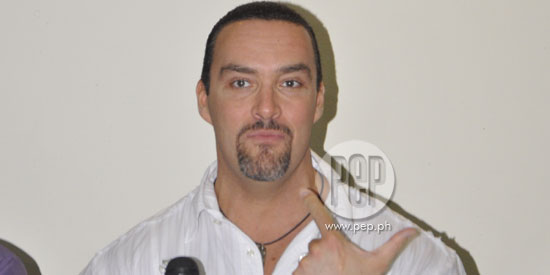 ---
Russia action star Alexander Nevsky is now in the Philippines to shoot his recent film, Showdown in Manila.
It turned out that it's been his dream to visit the country.
"It was my dream for so many years to go to the Philippines and I am happy that I can shoot my action film here also," he said at the press conference of the movie held at Hotel Intercontinental last Sunday, March 22.
Dubbed as Russia's Arnold Schwarzenegger, Alexander is also a three-time Mr. Universe title-holder.
His list of action movies includes Undisputed, Moscow Heat, Treasure Raiders, and Magic Man.
His most recent theatrical hit was Black Rose, a psychological thriller released international in 2014, which he himself directed.
His co-stars in the movie were Kristanna Loken (Terminatior 3: Rise of the Machines) and Adrian Paul (Highlander).
MULTI-FACETED. Alexander is also a superstar bodybuilder in Russia apart from being an actor and director.
He earned his academic degree from the State Academy of Management in Moscow and has published five best-selling books as well as authored 500 articles on fitness and bodybuilding in his country.
How long has he been doing martial arts?
"Since I was 14 years old, but my first love is bodybuilding.
"So, I'm a professional bodybuilder, and martial arts is more for my heart. I love martial arts.
"I was the first Russian bodybuilder to achieve international stardom.
"But, I think, I was a boxer first, kickboxer, that's why I have inner strength."
As the producer of this action-packed film, how did he gather all his actors for Showdown in Manila and how much did it cost him?
"Well, don't ask me about how much, because we cannot say it anyway," Alexander smiled.
He continued, "It's very expensive and and we have producers who deliver that and everything.
ADVERTISEMENT - CONTINUE READING BELOW
"But for me, I think it's the first time since Expendables that we see so many action stars on the screen at the same time.
"That's why in American media, already they call it like the new version of Expendables."
He added mirtfully, "I think that Showdown in Manila has a great potential for the franchise.
"So, you will see more of us, I hope, in Manila.... More of my colleagues, you know, I hope."
FRIENDS. Queen of Martial Arts Films Cynthia Rothrock had mentioned that they've been friends for many years. How did their friendship start?
Alexander said, "Of course, Cynthia is one of my idols because a lot of her films, especially the first one which she did with Matthias [Hues], No Retreat, No Surrender… they did a great film.
"I was watching it when I started bodybuilding.
"For me, it's a big honor for me [to be called her friend]. Yes, we know each other.
"Actually, she came to Russia first time about ten years ago. She was a guest at the premiere of one of my films, Moscow Heat.
"I think it was released here also. Me and Michael York, Adrian Paul, and Joanna Pacula, yes.
"That was the first film which I starred in. It was released in the United States.
"And Cynthia and Don [Wilson], actually, they helped me a lot to promote healthy lifestyle in Russia because that's what I am doing.
"I promote bodybuilding and martial arts. I have a TV show and I publish books."
CIRIO'S FAN. Alexander's local production head is Chris Santiago, son of Cirio Santiago, a pillar in Philippine cinema. Chris was introduced to Alexander by Mark Dacascos, star and director of Showdown In Manila.
"Mark has been here many times and he made his last film with Chris, he helped him and Roger Foreman to produce it.
ADVERTISEMENT - CONTINUE READING BELOW
"And as I told you, I knew about Chris's father, Cirio the Santiago, he's a legendary producer and director.
"Quentin Tarantino, for God's sake, was in his films when he was working at that video store or even before his career.
"So, for me, the idea to work with Chris sounded great and we exchanged emails, and we started to talk on the phone.
"And then, here, you know, it's like an orchestra.
"It doesn't matter where you're from. When you see a talented person, an experienced person, it's easy to work with that person.
"I love and respect professionals, you know, and Chris is a professional.
"He did a great job producing, we're already in our third week of production."
In Showdown in Manila, Alexander plays a cop encountering an interesting array of characters to be played by international stars Casper Van Dien (Terminator and Starship Troopers), Cary- Hiroyuki Tagawa, Tia Carrere, Matthias Hues, Don "The Dragon" Wilson, Oliver Gruner, and Cynthia Rothrock.
Filipino actors are also included in the cast headed by actress Iza Calzado, Jake Macapagal, Mon Confiado, and Will Devaughn.
FRANCHISE. Is Showdown in Manila designed to have a sequel?
Alexander said, "I see that as a franchise, for sure.
"I hope the next one will get even more legendary directors and legendary action stars...
"Sylvester Stallone, I know Sylvester Stallone personally, he is great guy. But there are so many action stars… [who weren't] in Expendables films.
"So, it's time for Showdown in Manila, you know, to push Expendables a little bit. That's what I think."
Do you intend to do another movie in the Philippines?
"Definitely, I already spoke to Chris Santiago if I'm doing another movie over here in September and October.
"Because what I want to do as I said [to him] is to meet a couple of distributors, I think Star Cinema or Viva, about theatrical release for Showdown in Manila.
ADVERTISEMENT - CONTINUE READING BELOW
"So I can bring all my co-stars back when we opened the movie.
"And I know that the audience here, they love action movies, and that's kinda like old-school action movie.
"But it is also, there's love in it. I know Filipino audience love… and we have love and whatever.
"We do a lot of love and romance in the film, and drama and action."
LIKING IT. According to Alexander, principal photography for Showdown in Manila started March 9 and all post-production will be in Los Angeles, California.
He said, "Total cost of production, ah, we're trying to have it at $110 million, of course, when we start releasing the film… [with] publicity and promotions, it will rise.
"But what I like here, you have so many professionals who can work and do their job so great.
"Armory guys, you know, martial arts experts, stunt guys.
"I was working with them already for almost three weeks, and I was, like, I love it.
"And it doesn't matter because I've been doing movies in Hollywood, I've been doing movies in Russia, I like it here.
"You have great professionals, it's no wonder why so many studios are trying to come in the Philippines right now and make films.
"You have great professionals."
Was he aware that some of the scenes in one of the biggest movie franchises in Hollywood, Bourne Legacy, were shot in the Philippines?
"I know and I've heard about that.
"And I know Jean-Claude Van Dame was doing movie here, I think he did it last year.
"You know, Jean Claude-Van Dame is one of my idols.
"When I came to Hollywood, he was one of the first people who helped me over there.
"He introduced me to his agent, you know, because he was a follower of one of my books, which I published in Russia.
ADVERTISEMENT - CONTINUE READING BELOW
"And I gave a copy to him and I told him my story that like him, I was a skinny kid and I went to boxing and kickboxing and to bodybuilding, and I was watching his films.
"So, Jean Claude Van Damme is a great guy and a very good friend.
"Actually, I hope that he will be in my next film, Jean Claude Van Dame, because he's a great action star.
"He was in Expendables, they killed him in the second [sequel] so, you know, it's time for him to move to Showdown in Manila, absolutely."