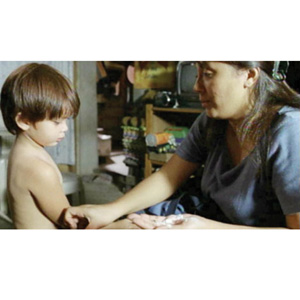 ---
In the ninth edition of the Palmas de Gran Canaria Film Festival in Spain, a hearwarming Filipino film about foster children bagged The Signis Award given out by the World Catholic Association of Communication.
Brillante "Dante" Mendoza's Foster Child earned its fourth international award during the said film festival, which took place in Spain last March 8. The official website of the filmfest described Foster Child as "the story, fictitious and documentary, of a foster mother who takes care of abandoned children in the outskirts of Manila. It follows the life of John-John, a three-year old who is to be adopted by an American family."
The other international awards bagged by Foster Child include the Best Actress Award for Cherry Pie Picache in New Delhi, the Special Jury prize in Kazakshtan, and Best Feature Film in the Paris Environmental Film Festival. This indie film also stars Eugene Domingo, Jiro Manio, Dan Alvaro, Alwyn Uytingco, and Kier Segundo. The script was written by Ralston Joel Jover for Seiko Films.
ADVERTISEMENT - CONTINUE READING BELOW
In 2006, Brillante's Masahista was also a part of the retrospective and it won the Signis Award in Brisbane.
Director Raya Martin presented his films Autohystoria (A Short Film About the Indio Nacional), The Island of the End of the World and Track Projections in the Hot Spot section which focused on the Philippines, Malaysia, and Romania.
Other Filipino directors who attended the Palmas de Gran Canaria Film Festival in Spain include Lav Diaz and Khavn dela Cruz. Their films Death in the Land of the Encantos and Squatterpunk, respectively, were part of this Spanish film festival. Auraeus Solito's Pisay was also shown in Spain but the filmmaker was unable to attend. In 2006, Auraeus's first feature film won the Golden Lady Harimaguada award.
Foster Child will compete at the Cinema Novo Film Festival in Stutges, Belgium, and in Durban, South Africa, in July. It will also screen as part of the New Directors, New Films in New York on April 3 and 4 at the Lincoln Center and Museum of Modern Art.
ADVERTISEMENT - CONTINUE READING BELOW