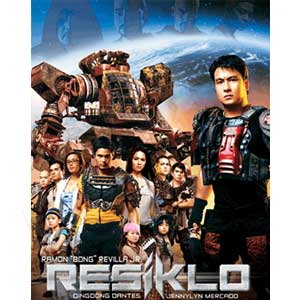 ---
Resiklo, the Best Picture of the 2007 Metro Manila Film Festival, is now available in VCD / DVD from Star Home Video. Produced by Imus Productions, the movie is a fantasy film about robots, made from recycled materials, battling evil forces.
Written and directed by Mark Reyes, the movie starts in 2021, the not so distant future. A global devastation brought about by an alien invasion has left the whole planet in shambles. In the Philippines, a rag-tag group of survivors strives to survive in a secret sanctuary called Paraiso.
Crisval Sarmiento (Bong Revilla), an ex-military colonel, is the reluctant leader who defends the whole compound from two threats. He must protect the remaining humans from the "Mutanos" or mutated humans serving the insect-like alien race (called "Balangs" by the humans) and the alien invaders themselves. Crisval, together with other human survivors, soon discovers that the real reason the "Balangs" have invaded the planet Earth is to convert humans to serve their needs.
In order to survive, humans must go up against a technologically advanced alien race by using robots they have engineered from recycled parts of derelict everyday machines and military components. In the midst of this war for human survival, love and faith become the greatest weapons of the human race. This is a story of the human spirit fighting against a malevolent force out to destroy the only place we call home.
The movie has a powerhouse cast of talented performers headed by Ramon "Bong" Revilla Jr., Dingdong Dantes, Paolo Contis, Benjie Paras, Jennylyn Mercado, Michelle Madrigal, Jolo Revilla, Bryan Revilla, Ramgen Revilla, Empress Schuck, Luis Alandy, TJ Trinidad, and Roi Vinson.
Grab a copy of Resiklo now available in VCD / DVD at all leading video shops nationwide, only from Star Home Video.