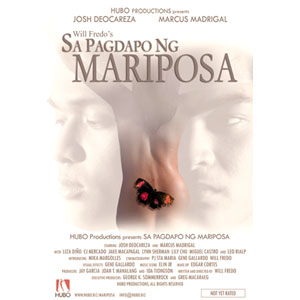 ---
The Movie and Television Review and Classification Board (MTRCB) has disapproved the poster of the indie film Sa Pagdapo ng Mariposa. The poster shows a nude person whose lower back is covered by a butterfly. This is the second movie endeavor of HUBO Productions, the same film outfit that produced Compound (2006). Incidentally, the movie poster of Compound also received an X rating from the MTRCB and required three revisions before approval.
The film Sa Pagdapo ng Mariposa revolves around the story of its two main characters: caregiver Carlito Mariposa and sepak takraw player Agustin Vergeire, portrayed by Josh Deocareza and Marcus Madrigal, respectively. Their relationship propels events; not only in their lives but also of the people they love. This thrilling love story also stars Liza Diño, CJ Mercado, Lily Chu, Jake Macapagal, Lynn Sherman, Monina Evans, Miguel Castro, and Leo Rialp.
Kuh Ledesma is tapped to sing a local tune that is played during a pivotal scene in the film.
Sa Pagdapo ng Mariposa will be shown in a special screening and concert scheduled on April 12 at the Teatrino Promenade Mall Greenhills. After this grand launch, moviegoers will be able to watch the film at IndieSine Robinsons Galleria from April 23 to 29. Sa Pagdapo ng Mariposa is written and directed by Will Fredo.
HUBO Productions, Inc. is an independent group whose vision is to explore artistry through practical yet creative means with the spirit of Brave New Production. HUBO dedicates its art to stimulate the mind, however unconventional and unfamiliar.