Direk Paul Soriano's Kid Kulafu is a highly stylized cinematic retelling of the early tumultuous life of the Filipino boxing icon Emmanuel "Manny" Pacquiao (played as a young adult by Robert Villar). It is, however, not so much as the retelling of a story that we already know; but a moving portrait of life – and how desperation and poverty forces people to be great.

SYMBOLISMS. Rich in symbolisms, Direk Paul chooses to open his film with a contrasting image of life and death. We are taken back to Manny's birthplace—the murky mountains of Bukidnon—where the armed struggle between government forces and the guerilla army is at its peak. A barbaric "human cock-fighting" contest is happening in a military camp while Dionisia Pacquiao (played by Alessandra de Rossi) is elsewhere giving birth to her eldest son, the man who would eventually win a record of 8 world titles, Manny "Pac-Man" Pacquaiao.
The chaotic nature of both sequences edited to play alternately ignites the idea that the succeeding narrative—Manny's early life—is filled with chaos. And yet underneath all the bedlam, there is life and hope.
We've seen so many boxing "rags to riches" stories as film and boxing have had a long-standing love affair in history. Kid Kulafu, however, provides a rather fresh take by banking on craftsmanship and imagery; trusting the audience's intellect by presenting its ideas with a strong artistic vision.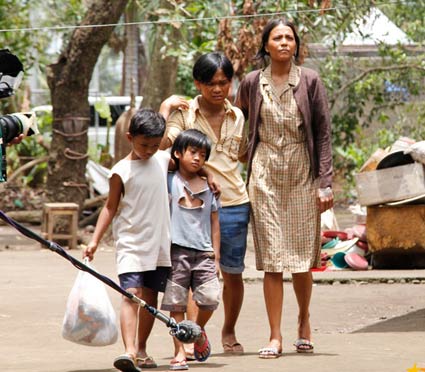 THE FIGHTS. One cannot make a boxing biopic without giving enough attention to the fights. This is the area where most boxing films failed (see Ron Howard's Cinderella Man, as an example); not giving enough thoughtfulness towards technique, space, and rhythm, which destroys the believability of the material altogether. The moment you see Robert "Buboy" Villar shadowbox, however, you will easily mistake him for a real prizefighter. What gets to you is how this young boy manages to mimic Manny's trademark speed, technique, and ferocity even with limited time to learn the sport. If he keeps up with this kind of dedication to a role, we might see one of the greatest Filipino method actors to ever come out of this generation.
The sensibility behind the fight choreography is relentless, fast, and gritty. And yet we know what is going on with who and why. Director Paul Soriano shows enough respect towards the craft he is trying to tackle by explaining certain facets of the game most people do not understand – the jab, head movement, basic defense, timing, and, most importantly, the heart of a fighter once found in the deep end of the pool.
If one is trying to explain the myth of Manny Pacquiao, the best way to do it is to accurately show us what it feels like to be in the ring. It is where we can get to see how the Pambansang Kamao influenced so many by simply having a fighting style that echoes the courage once exemplified by an entire nation.



STELLAR SUPPORTING CAST. As the famed "Mommy" Dionisia Pacquiao, Alessandra de Rossi proves that she is perhaps the most underrated actress working today. She breathes humanity into the comedic persona we have grown to associate with Manny's flamboyant mother. Alessandra dons the role almost effortlessly—from her accent to her subtle mannerisms.

Cesar Montano, a veteran actor mostly seen as a lead, provides a noteworthy supporting performance as Manny's uncle and first boxing trainer Sardo Pacquiao. Cesar hits every spot with his familiar machismo charm but manages to come off naturally; like the role was made for him to play.
The rest of the cast is a roll-call of veteran Filipino actors such as Jun Urbano, Archie Adamos, and Jake Macapagal.



THE MYTH OF MANNY PACQUIAO. Boxing is not a poor sport and yet it is a sport for the poor. The highest-paid athlete today is a boxer but only a man that is desperate enough to willingly throw himself into the fire just to earn enough money to survive would sanely make a living out of prizefighting. Major boxing promotions today earn billions every year and yet thousands of journeyman boxers are fighting for something that is less lucrative but perhaps more important: daily survival.
The gap between having a big house and five cars and a life of depression and gloom cannot be more obvious than watching a boxer's life unfold. The sport is innately broken that reaching the top of the mountain requires one to be legendary, nothing less.

Manny Pacquiao reached the top of that mountain. We all know that and we all know how. That is his myth. And the film wisely chooses to stray away from adding any more facts that the public, quite honestly, already knows about the 8-division world champion.
The true achievement of Kid Kulafu is that it brings down that myth, chips away all pre-conceived notions and stereotypes, and presents it in a way that allows the spirit of what Manny represents—the impoverished, the weak, and the war-torn—to emanate and tell us that yes, the man behind the legend is real. But beyond the lights of fame, he was an everyman. Just like all of us.


Ed's Note: The "PEP Review" section carries the views of individual reviewers, and does not necessarily reflect the views of the PEP editorial staff.