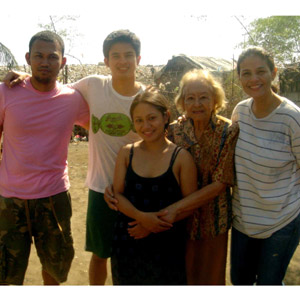 ---
At 83, Anita Linda still has what it takes to be the lead actress in a film. It will be recalled that the veteran actress' last major role was way back in 1998 for the Mario O'Hara film Ang Babae sa Bubungang Lata.


After Adolf Alix Jr. worked with her in the Cinema One Originals movie Tambolista (2007), he was so impressed with Anita's professionalism that he thought of making a project that would be a fitting tribute to her six decades in the industry.
This prompted Adolf and Noel Ferrer to collaborate in producing the indie film titled Adela. In fact, the earnings of their previous film Daybreak went to the production of this film, which was shot for three days in the slum area near Coastal Road.
Anita (whose real name is Alicia Lake) has starred in several independently produced films in the past, namely Ilusyon (2005), Sikil (2007), and Tambolista (2007). But she is also tapped to play roles in mainstream projects such as Ouija, A Love Story, and Bahay Kubo, which wereall released last year.
ADVERTISEMENT - CONTINUE READING BELOW


The story of Adela, which takes place in a span of one day, is a heartbreaking story of a woman who longs for the company of her loved ones. Some of the stars tapped to act as Adela's neighbors are Jason Abalos, Angeli Bayani, and Iza Calzado.
SYNOPSIS. On her eightieth birthday, Adela prepares enough food to accommodate her children who all promised to be present during the occasion. She goes around the community and helps those who are in need. She tries to treat it like a normal day—doing her daily chores and duties but the widow can't hide her loneliness.


Adela has three children: an OFW who works in Qatar; a drug addict son (portrayed by Ricky Davao) who is currently in jail; and a daughter who works as a housemaid in Makati. They all fail to show up and greet her, prompting her to spend the day alone on Freedom Island, a bird sanctuary where mangroves are abundant.


STARRING: Ms. Anita Linda
ADVERTISEMENT - CONTINUE READING BELOW
ALSO STARRING: Jason Abalos, Joem Bascon, Kenneth Ocampo, Arnold Reyes, Angeli Bayani, and Cyra dela Cerna
Special Guest Appearances: Iza Calzado, Ricky Davao, Mr. German Moreno, and Ms. Perla Bautista
Executive Producers: Noel D. Ferrer and Adolfo Alix, Jr.
Line Producers: Arleen Cuevas
Associate Line Producer: Maxie Evangelista
Director of Photography: Albert Banzon
Production Manager: Rolly Palmes
Associate Director: Armando Reyes
Production Designers: Adolfo Alix, Jr. and Jerome Zamora
Written by Adolfo Alix, Jr. and Nick Joseph Olanka
Directed by Adolfo Alix, Jr.

Adela is now in the post-production phase.