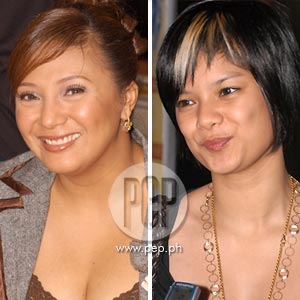 ---
Cherry Pie Picache and Meryll Soriano star in a Cinemalaya entry about a violin teacher and his student. Ellen Ongkeko-Marfil is the director and producer of the indie film Boses (international title: Voices), which will premiere as one of the finalists of the fourth edition of this annual filmfest. The 2008 Cinemalaya Philippine Independent Film Festival will be held from July 11-20 at the Cultural Center of the Philippines.
Boses (Voices) is the story of a musician named Ariel (played by Coke Bolipata) who offers violin lessons to a child of the slums (played by Julian Duque). Through the violin, the abused child Onyok is able to get back his voice from a mute, desensitized existence. Cherry Pie plays Amanda, the sister of Ariel while Meryll plays the student-girlfriend of the violinist.
A violin teacher and his student, a mute 7-year old abused child in a shelter, develop a friendship stemming from their love of music. Ariel discovers the immense talent of Onyok hiding behind a veneer of silence and pain caused by an unhappy and cruel father. In the developing relationship of teacher and student, both characters reveal more of themselves that otherwise may have remained unspoken. They discover each other's strengths and failures through the violin lessons.
ADVERTISEMENT - CONTINUE READING BELOW
Boses is being taped on location in Casa San Miguel (a farm in Zambales converted into a complete center for the arts). Violinist Alfonso "Coke" Bolipata studied at the New School of Music in Philadelphia, Indiana University, and at the Julliard School in New York. He established Casa San Miguel in his family's mango orchard in Zambales when he returned home from his studies abroad.


Ellen Ongkeko-Marfil is best known for the movie Mga Pusang Gala, which she both directed and produced. She was schooled at the University of the Philippines, Philippine Educational Theater Association, Mowelfund Film Institute with short visitors' programs in Paris and London.


She founded Erasto Films Inc., named after her father. Erasto means "man of peace." Its objective is to help push alternative filmmaking to the forefront of Philippine cinema, and create impact on the mainstream. Erasto Films' first project is Mga Pusang Gala, which was made possible through equity-sharing of almost the whole cast and staff.
ADVERTISEMENT - CONTINUE READING BELOW
She used to be a public affairs program manager for GMA-7 shows I-Witness, Debate, and Unang Hirit.
Boses (2008)
Cast: Coke Bolipata, child prodigy Julian Duque, Cherry Pie Picache and Meryll Soriano.
Writers: Froi Medina and Rody Vera
Music: Coke Bolipata
Cinematography: Nap Jamir
Production Design: Bianca Dadivas
Director-Producer-Ellen Ongkeko-Marfil
Cinemalaya 2008 will be held on July 11-20 at the Cultural Center of the Philippines. This all-digital independent film festival and competition aims to discover new Filipino filmmakers. The fourth edition of this film festival will feature the Cinemalaya Film Congress, exhibitions and other film related activities.


The CCP is launching a new section this year called the Children's Section, which aims to encourage the development and production of culturally relevant content for Filipino children. Filipino filmmakers can submit animation or regular features in digital format of a maximum length of 20 minutes to compete in the Rene O. Villanueva Prize. Click HERE for the full mechanics and deadline of submission.
ADVERTISEMENT - CONTINUE READING BELOW