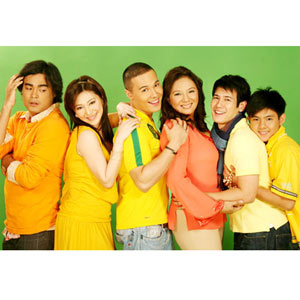 ---
The cinema of SM Megamall reverberated with deafening laughter as fans flocked to watch the premiere of Manay Po 2: Overload held last April 13. This Regal Entertainment comedy stars Rufa Mae Quinto, Cherry Pie Picache, Polo Ravales, John Prats, Jiro Manio, Sid Lucero, Christian Vazquez and company.
Rufa Mae is a hit as the "mali-mali" babymaker named Bette hired by Adrianne (Sid) and Oscar (Polo). Showbiz insiders noted that Rufa Mae's character was a refreshing change from her previous film roles and more than that, it was a tedious character to portray. Yet she was able to portray the part consistently from start to end.
Cherry Pie is twice wackier as Luzviminda, the distressed mother of three gay sons and an anxious woman in love. One of her most memorable scenes was when she copied the image and dressing style of sexy actress Summer Rain (played by Rubirubi) to win back the attention of partner Jerry (Christian Vazquez). She herself was carried away with laughter while she was dubbing the movie. Cherry Pie was reported to have been so pleased with her over-all performance in Manay Po 2 that she immediately spoke to director Joel Lamangan to give thanks for his motivation and support.
As for the three gay sons played by John, Polo and Jiro, their stories give heart to this enjoyable family film. John's "emote na emote" character Orson is a perfect counterpoint to Polo's "tough Oscar," while Jiro as Orwell is endearing as the young one discovering his homosexuality.
Watching Polo and Sid play a manly gay couple is a delight, especially when they decide to have a baby of their own. One of the highlights of the film was a very cute scene wherein they tickle each other to surprising consequences.
The audience responded warmly to the film that tackles the petty quarrels of the Dimagiba family. Manay Po 2: Overload also stars Mike Tan, Marco Alcaraz, Giselle Sanchez, Paolo Rivero, Rubirubi, IC Mendoza, Charles Christianson, Alex Castro, Andrea Torres, EJ Jallorina, and many more. It is written by Dinno Erece and directed by Joel Lamangan.
ADVERTISEMENT - CONTINUE READING BELOW
This Regal Entertainment film opens in theaters nationwide starting this Wednesday, April 16.
Click HERE to view photos of the cast members of Manay Po 2: Overload.