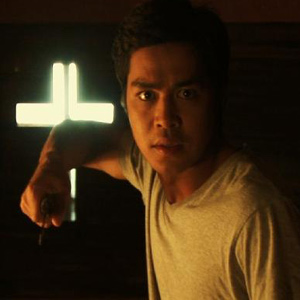 ---
Altar will hold its international premiere at the Italian filmfest this April 23. Last year, the mystery-suspense-thriller was one of the five finalists of the 2007 Cinema One Originals Digital Film Festival. Rico Maria Ilarde's Altar won the Cinema One Award for Best Musical Score.
This film marks the indie film debut of Zanjoe Marudo, model turned actor and former Pinoy Big Brother Celebrity Edition 1 housemate .
Altar tells the story of Anton (Zanjoe), a former boxer who retired upon accidentally killing an opponent in the ring during a prizefight in the U.S. Returning to the Philippines, he finds himself destitute and jobless. He is hired by a mysterious foreman who assigns him and a companion named Lope (played by Nor Domingo) to renovate a lone, decrepit house on a hill at the outskirts of Metro Manila. Bloodcurdling events occur, one after the other, until all these snowball towards a deeply disturbing, violent climax.
ADVERTISEMENT - CONTINUE READING BELOW
Other members of the cast include Dimples Romana, Dido dela Paz, and Kristal Engle. Aside from directing the feature, Direk Rico also wrote the story and screenplay together with Mammu Chua. It was produced by Ronald Arguelles of Cinema One.
Altar will be in good company since the Italian filmfest features acclaimed films from other Asian countries—China, Korea, Japan, Hong Kong, Indonesia, Malaysia, Singapore, Taiwan, and Thailand.
Personally opening the festivities is Hideo Nakata, the Japanese director known around the world as the man behind the breakthrough Asian horror film, Ringu (The Ring). Nakata will also screen one of his more recent works, Horror Day, as part of the opening ceremonies.
The Udine Far East Film Festival has been celebrating and giving recognition to various Asian movies since 1998. This year's festival—in partnership with the Friuli Venezia Giulia Film Commission—will organize an important meeting dubbed as Ties That Bind on April 21 and 22.
ADVERTISEMENT - CONTINUE READING BELOW
The two-day meeting is dedicated to strengthening the production and distribution relations between Europe and Asia. Key people from the Asian and European film industries will participate. Another aim of the initiative is to further research potentially lucrative partnerships between both industries.