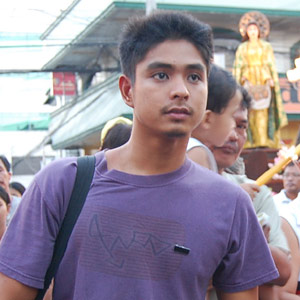 ---
The Filipino film Serbis is one of 20 films chosen to compete in the 61st Cannes Film Festival, the premier international film festival held yearly in Cannes, France. This year's festival will run from May 14 to 25.
Brillante "Dante" Mendoza helms this indie film, which is expected to be screened in the Philippines this June. Serbis is a co-production between French producer Didier Costet for Swift Productions and Filipino producer Ferdinand Lapuz for Centerstage Productions.
Serbis is the story of a family living in a rundown movie house in Angeles City, Pampanga. Gina Pareño plays the matriarch who owns the moviehouse, while her family members serve as her employees. Playing Gina's children are multi-awarded actress Jaclyn Jose, former action star Dan Alvaro, and newcomer Roxanne Jordan. Julio Diaz plays Jaclyn's husband, while Kristofer King is cast as the projectionist of the movie house and Coco Martin is a painter. Mercedes Cabral plays Coco's girlfriend and Bobby Jerome Go plays the son of Jaclyn and Julio.
ADVERTISEMENT - CONTINUE READING BELOW
The screenplay of Serbis was written by multi-awarded Armando "Bing" Lao (Kubrador, Pila-Balde). Bing co-wrote the story with Boots Agbayani Pastor (Kaleldo, Masahista).
Serbis has been invited to the official Competition section of the 61st Cannes Film Festival. Cannes—considered the top international film festival in the world, followed by the Toronto International Film Festival and the Berlin International Film Festival or Berlinale—has several sections, including the Directors Fortnight and the Out of Competion.
The Competition section is the toughest section to crack. This is only the third time that the Philippines has been invited to this section in Cannes: the first time in 1980 with the late National Artist Lino Brocka's Jaguar and the second in 1984 with Kapit sa Patalim, also by Brocka. The screenplay for Jaguar was written by respected artists Ricky Lee and Jose "Pete" Lacaba; with Lacaba getting solo screenplay credits for Bayan Ko: Kapit sa Patalim.
ADVERTISEMENT - CONTINUE READING BELOW
Last year, Dante Mendoza's independent film Foster Child, produced by Seiko Films, was accorded a five-minute standing ovation at the Cannes Film Festival's Director's Fortnight, the same category where other Filipino films have been shown—namely, Lino Brocka's Insiang (1978) and Bona (1981); Mike de Leon's Kisapmata (1981) and Batch '81 (1982); and Mario O'Hara's Babae sa Breakwater (2004). Brocka's Orapronobis was shown in the Out of Competition section in 1989.
When Serbis screens at the 61st Cannes Film Festival, Dante Mendoza will do the country proud once again. Earlier this month, his Tirador won three major awards in the Singapore International Film Festival, including Best Picture and Best Director. In 2005, his first full-length indie film, Masahista, won the Golden Leopard Award at the Locarno International Film Festival.