Cinemalaya enthusiasts can look forward to a more modest version this 2015 in preparation for a much bigger film festival next year.

This summed up the opening speech given by Cinemalaya Festival Director Chris Millado during the media launch of the 11th Cinemalaya Philippine Independent Film Festival.

This year's Cinemalaya will open on August 7 and will run until August 15, 2015 at the Cultural Center of the Philippines and Greenbelt 3, Makati City.

During the July 16 press conference held at the CCP, Millado told members of the press that Cinemalaya 2015 is "a modest version of previous festivals...

"We have exciting horizons to reach. We are mending our sails, mending our katig [outrigger of a small boat] to plan our bigger journey for Cinemalaya 2016."

Millado also revealed that the Nora Aunor-starrer Taklub will serve as the opening film of Cinemalaya 2015.

Brillante Mendoza's film about survivors of supertyphoon Yolanda premiered in the Un Certain Regard section of the Cannes Film Festival last May.

It has been previously reported that the main competition this year will focus on short-film entries.

The full-length entries will be shown in 2016, during the 12th edition of Cinemalaya.

The new and up-and-coming directors will be competing against veteran filmmakers since the New Breed category and Director's Showcase category has been merged into one section.


(Read: Laurice Guillen defends Cinemalaya decision to scrap New Breed category)


Cinemalaya Foundation President Laurice Guillen explained that Cinemalaya's theme this year, "Broadening Horizons," captures their vision for the film fest to reach neighboring countries within the next ten years.

"We have already achieved our goals in the first ten years.

"The broadening means...maybe we can expand Cinemalaya to not just be a Philippine Independent [Film Fest].

"By saying broadening, you're going regional.

"But since Cinemalaya is very conservative, we start by inviting mga pelikula na palabas dito.

"Our independent filmmaking scene is one of the most [active] in the region that enjoys creative freedom.

"Yung mga films na hindi nila mapalabas sa kanilang bansa, they can show it here because we have the freedom.

"That's what we mean by broadening and we have the next ten years to make it happen."



ON YOUTUBE UPLOADING OF FILMS. One of the biggest controversies faced by Cinemalaya last year was the uploading of some Cinemalaya films on YouTube.

Several filmmakers expressed their disappointment when entries from Cinemalaya 2012 and 2013 editions were uploaded for free on the video-sharing site.
Read: Cinemalaya festival director Chris Millado explains upload of past Cinemalaya entries on the Net


Direk Laurice pointed out that this move was done to make Cinemalaya films more accessible to the public since the festival only runs for a limited period at limited screening venues.
"When you are thinking about it, ilang tao yun, di ba? Ilan lang yun.
"May mga taong gustong manood like me, for example, yung Virgin Lab Fest [a festival of unstaged plays at the CCP] ilang taon ko na gustong magbabad dito hindi ko na magawa, di ba?
"So ganu'n din ang Cinemalaya, nababasa ng [tao] yung nangyayari dito.
"But the time they can come, it's already finished, di ba?
"So how do you share this with other people? Because that is where we are going, that is really where the industry is going."

The Cinemalaya Foundation President said that they will still continue with this move, but they will be more selective and it will proceed upon the discretion of the directors.
"Kung ayaw nila, e, di hindi."
Direk Laurice points that the industry is already in the digital age, and she wants Cinemalaya to reach more people through this online platform.
"Let's face it. Noong araw sinasabi nila mahal 'yang digital pero tignan mo, even television is going to be digital.
"Everything is gonna go digital. It's a matter of months or a few years. So you have to rethink na the festival, you have a festival here.
"[Cinemalaya] is an event that creates excitement but you want to share that sa Mindanao, sa Visayas and other places and as we expand you know, at least we are thinking na sa Pilipinas they can share in the festival experience.
"But you know, there are issues na kailangang ayusin, so we will just have to be more selective in how we implement that."

Direk Laurice also revealed to PEP and other select media outfits that there are plans to provide pay per view options for those who want to watch past Cinemalaya entries.

"Pay per view is another thing during this festival. You can make that available. Okay, 'pay per view, eto ngayon yung mga palabas.'"

When PEP.ph (Philippine Entertainment Portal) asked if they are planning to provide the pay per view option this year, she answered, "That is what we're working on. But that is up to...There's another department who is looking into that."



HURTFUL WORDS. How did Direk Laurice react to past controversies of Cinemalaya, particularly the issue of uploading entries on YouTube?

"Every year, we always hold a debriefing or evaluation where everyone will come together so we can do something about it the following year.

"Unfortunately, hindi nakakarating dun yung iba so lumalabas not in the right forum.

"We actually made the effort to bring it up.

"Sampu iyan na binabantayan mo.

"There will always be some kind of friction and stress.

"Some really hurtful words are said."

Direk Laurice then disclosed, "I'm not getting any salary out of this. This is all because we are on a mission to help our local industry become internationally successful."




BROADENING HORIZONS. For the 11th year of Cinemalaya, Festival Director Chris Millado says the main focus will be on the short films.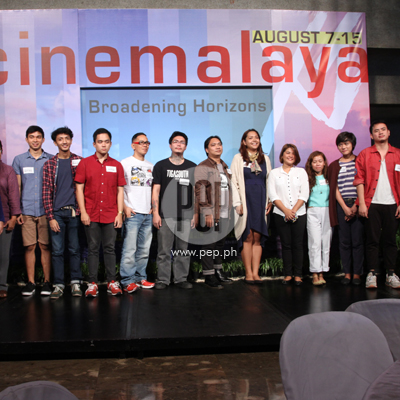 Directors of Cinemalaya Short Films (L-R): Glenmark Doromal & Eero Yves Francisco (Gatilyo ng Baril), Kenneth Dagatan (Sanctissima), Milo Tolentino (Nenok), Arvin Belarmino (Kyel), Darwin Novicio (Papetir), Martika Ramirez Escobar (Pusong Bato), Annemikami Pablo (Mater), Angelie Mae Macalanda (Wawa), Ryanne Murcia (Apasol) and Petersen Vargas (Lisyun Qng Geografia).

There are 10 finalists in the Short Film Category this year:

Apasol by Ryanne Murcia, Gatilyo ng Baril by Glenmark Doromal and Eero Yves Francisco, Kyel by Arvin Belarmino, Lisyun Qng Geografia by Petersen Vargas, Mater by Annemikami Pablo, Nenok by Milo Tolentino, Papetir by Darwin Novicio, Pusong Bato by Martika Ramierez Escobar, Sanctisima by Kenneth Dagatan and Wawa by Angelie Mae Macalanda.

When Cinemalaya opened in 2005, there were 10 finalists who received a seed grant to create full-length films that reflect Filipino identity and culture.

In Cinemalaya 6, or the 2010 edition, the Director's Showcase category was established where veteran filmmakers were featured. Newbie and up-and-coming directors competed in the section called the New Breed category.

From the beginning, Cinemalaya has always had a competition for short films.

The inaugural edition in 2005 featured 6 short film entries but subsequent editions had 10 shorts competing for the top plum.

Direk Laurice points out the differences of Cinemalaya 2015 from past editions.
"Mas simple in the sense na we only have the shorts competition.
"We have more films actually this year, mga winners ng mga Philippine independent films in local festivals and some of them have already won."
Despite the absence of the full-length films, Direk Laurice said that they added several sections for moviegoers to enjoy this year.
"We have the Asian section, we have current independent films dito, we have restored films and so on."
The Asian section has 12 films that showcases award-winning films from neighboring countries.

Indie Nation, on the other hand, shows feature films premiering at Cinemalaya.

Cinemalaya Retrospective features all the Best Films of Cinemalaya for the past 10 years.



CINEMALAYA INSTITUTE LAUNCHED THIS 2015. In line with their goals, they have established the Cinemalaya Institute to prepare the next generation of filmmakers.

Headed by Carlitos Siguion-Reyna, the Cinemalaya Institute offers a three-semester program of intensive training in film production – which includes writing, directing, editing, acting, production design and musical scoring.

Direk Laurice says that creating this institute supports their goal of ensuring growth and sustainability.

"This year was the rebooting of Cinemalaya...we have revisions and decided to broaden our horizons and to look what is beyond now.
"Every ten years kasi ginagawa 'yan. We started again with the competition, the shorts.
"Broadening horizons means that Cinemalaya now opened schools for directors who are set to join next year's competition.
"We started this year the Cinemalaya Institute, which is already done with its first module of classes taught by New York University professors.
"We're just about to finish also the last one, the directing class.

"What was not announced at the presscon is that we are going to be showing exercises and projects from the directing class of Cinemalaya Institute and they are quite good.
"I have seen already [some of their output].
"I like this exposure in Cinemalaya to serve as a promotion for what that things we can refine our works locally through this Cinemalaya Institute offerings.
"And at the same time makikita ng mga ano [tao] because we would like this to be like we start with the short filmmakers.
"And as they grow into… as they prepare for yung full-length entries nila ay makakuha din sila ng mga courses to help them prepare and define their ideas."


REVELATION OF NEXT YEAR'S FINALISTS. One of the biggest changes involves lengthening the preparation period for the full-length entries.

On the last day of the festival, on August 15, the 10 filmmakers for next year's festival will be revealed.
According to Direk Laurice, this move was done to further improve the quality of movies by adjusting the time table of film production.
"It's just that like for example, one of our problems from the past is they only had February, March, April, May, June, July, August…
"Parang five to six months lang to look for their counterpart, financiers to pre-production to shoot their films, it's too short.
"But if you give them one whole year… so do'n sa pagreboot na yun, we decided to adjust our time table para the first seven months, yung by the end of this time we will have our ten finalists who will be announced at the closing night of film festival 2015.
Direk Laurice added, "Yung ngayon, pag-announce sa kanila ay August [2015].

"Ang pelikula nila ay ipapalabas sa 2016 so may isang buong taon sila to make the films.

"Six months before yung kanilang selection process, gano'n dapat."

Direk Laurice said that they will continue this practice in the future.

She hopes that this reboot will lessen the problems encountered by the monitoring commitee, which is in charge of ensuring that the movies will come out on time and are able to meet the standards of Cinemalaya.

"Part of rebooting, inaayos namin 'yang continual problem na 'yan every year, e, hinahabol pa.

"Many of the new ones don't realize na it's easy to shoot but once when you do post-production, mas napaka-hirap ng digital and that's where all these media productions are going.

"We are all going digital. I mean it's really digital na."

Cinemalaya 2015 will be held from August 7-15 at the CCP in Pasay City and Greenbelt 3, Makati City.