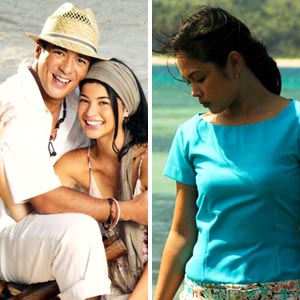 ---
It is understandable why movie producers would want to premiere their films on this auspicious day, the 30th of April. For a lot of Filipinos, the end of the month signifies pay day, making it the perfect chance to relax and see a movie.
Two locally produced movies will open today: Panoramanila Pictures Co.'s Ploning and the Star Cinema-Viva Films co-production When Love Begins. These two films were shot in beautiful locations in the Philippines and both deal with love but aim to show different facets of love.
Ploning is graded "A" by the Cinema Evaluation Board (CEB) and is classified General Patronage by the Movie and Television Review and Classification Board (MTRCB). It is directed by first-time director Dante Nico Garcia. Ploning will be screened exclusively in SM cinemas starting today and will be shown in other theater houses starting May 7.
When Love Begins is rated "B" by the CEB and is classified PG13 by the MTRCB. It is directed by Jose Javier Reyes, who has been named Best Director several times, the most recent of which was for Kasal, Kasali, Kasalo in the 2006 Metro Manila Film Fest and the FAMAS. When Love Begins screens at 150 theaters nationwide.
ADVERTISEMENT - CONTINUE READING BELOW
PLONING. Judy Ann Santos portrays Ploning, the town beauty of Cuyo, Palawan, who is still unmarried at the age of 30. She likes to spend her time looking out to the sea and rubbing a balugo seed in memory of her great love Tomas. To the young boy Digo, 'Nay Ploning is his surrogate mother since his biological mother Juaning (Eugee Domingo) is a paralyzed woman. Digo is portrayed effectively by first-time actor Cedric Amit, a young Cuyonon whose acting seems effortless.
The movie shifts back and forth from the 1980s to the present several times but through excellent storytelling, you won't get lost by the details tying them all together. Expect the first part of the movie to be slow-paced, reflective of the laidback life of the Cuyonons. Around 40 percent of the movie is in the Cuyonon dialect so be prepared to keep up with the Tagalog subtitles as you watch the story unfold onscreen.
ADVERTISEMENT - CONTINUE READING BELOW
Ploning boasts stunning cinematography that showcases the sights in Cuyo such as the pristine Capusan beach, a bird sanctuary, a rocky pier and glorious golden sunsets that are simply breathtaking.
As Ploning, Judy Ann exhibits a wisdom and maturity beyond her years. Through her expressive eyes and enigmatic smile, we see that she is very much in love even though she has no visible partner onscreen. It's not easy learning the Cuyonon dialect but she delivers her lines almost as if she is a native of the province. It won't be surprising if Judy Ann nabs Best Actress awards for her heartfelt portrayal of Ploning.
Gina Pareño is Intang, the mother of Tomas, who pours out her grief and frustration in the climactic moment of Ploning. Tony Mabesa gives a subdued performance as the father of Ploning and his last scene with Juday will definitely tug at the heartstrings of people who feel misunderstood by their fathers.
ADVERTISEMENT - CONTINUE READING BELOW
Why it's worth your movie ticket: Ploning has a lot of touching moments that will have you in tears.
WHEN LOVE BEGINS. Aga Muhlach and Anne Curtis are paired together for the first time onscreen with favorable results. Ben Caballero (Aga) is a lawyer who represents an environmental group while Mitch Valmonte (Anne) is involved in the marketing department of her father's real estate company. Mitch's father Paco (Christopher de Leon) is facing legal troubles because of Atty. Caballero. This situation forces Mitch to choose between her father and her new flame.
When Love Begins is a study of two people afflicted with commitment phobia—both Ben and Mitch are afraid of responsibilities because they have been burned by love in the past. Ben's family thinks he needs some growing up to do while Mitch's father would rather let her decide what to do with the man who is challenging him in court. Mitch must decide where her loyalties lie—the family business or the man who considers her as his "girlfriend—in a way."
ADVERTISEMENT - CONTINUE READING BELOW
Aga can still make hearts flutter with his bedimpled smile and natural playfulness. Even during a dramatic hospital scene involving his mother, played by Boots Anson-Roa, Aga shows his charm that doesn't fail to elicit chuckles from the audience.
Anne deserves notice for her portrayal of the liberated and cynical girl Mitch. Her bikini-worthy body looks amazing onscreen and she manages to show a side of her that is aggressive when it comes to getting what she wants.
Shot partly in Boracay, When Love Begins shows that something that started out as a summer fling just might develop into something more serious. It's a gentle reminder for everyone that taking care of the environment is everyone's job, not just lobbyists just like Ben and his friends. And if you've got a "non-relationship" going on between you and your significant other, you just might pick up a few tips from Ben and Mitch.
ADVERTISEMENT - CONTINUE READING BELOW
Why it's worth your movie ticket: When Love Begins has the elements of a good love story and you can't help but empathize with the characters who had the right love at the wrong time.