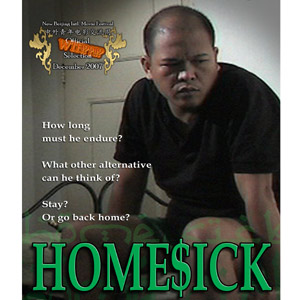 ---
Overseas Filipino Workers (OFWs) always have to battle the pangs of homesickness, missing their loved ones in a strange country. This is often the case when the breadwinner goes abroad in search of greener pastures and the family is left behind in exchange for a financially rewarding life.
This is the underlying theme of Noriel Jarito's Homesick, a film that tackles how an OFW deals with the loneliness and solitude inherent in his line of work. The woes and perils of being alone in a strange country is explored in the film, as audiences watch a male breadwinner who leaves his wife and son in the Philippines in order to find a better-paying job abroad.
Homesick will be screened on May 1 to 3, 7 p.m., at the Film Institute (Videotheque) at the University of the Philippines-Diliman. The film, which revolves around the life and times of an OFW, will be showcased in commemoration of Labor Day.
ADVERTISEMENT - CONTINUE READING BELOW
SYNOPSIS. Efren, a poor father who dreams of providing a decent life for his family, leaves for Saudi Arabia in order to earn what he couldn't have in the Philippines. Wanting to get ahead in life, he goes abroad and leaves his wife and son behind.
In the deserts of Saudi, Efren is plagued by the thoughts of wanting to go back to his homeland against needing to focus on his goal. As he battles homesickness, he finds several ways to entertain himself, which prompts him to miss his family even more.
In the Middle East, Efren is badgered by his conscience: Did he do the right thing? How many nights in a foreign country can he endure? Is the promise of a better life worth the price he's paying?
In Homesick, Noriel Jarito tackles issues that OFWs often encounter while living in a foreign land. The 80-minute movie, which Jarito starred in, directed, and edited, takes audiences into the turbulent and lonely mind of a typical OFW as he faces the hurdles and challenges that come his way. Homesick was written and produced by IRONoriel Productions, Jarito's own movie outfit.
ADVERTISEMENT - CONTINUE READING BELOW
Noriel, a novice filmmaker, made his first short film in 2006 titled OFW-Bagong Bayani, which was a finalist in several competitions such as Pinoy Box Office Digitales 2, Tehran 11th International Short Film Festival 2006, and the 19th Gawad CCP Film and Video Competition. It was also screened during the 1st Jakarta Slingshortfest in 2006.
Homesick was also screened at the New Beijing International Film Festival two months after its completion in October last year.
Schedule: May 1 to 3, 2008 (7 p.m.)
Venue: University of the Philippines Film Institute (Videotheque), Diliman, Quezon City.