Brillante Mendoza's Taklub tells viewers about super typhoon Yolanda/Haiyan – one of the most devastating typhoons to ever hit the Philippines – by not showing the tropical monster itself. Instead, Direk Brillante chooses to give us the aftermath.

This film captures the plight of Filipinos who survived the catastrophe that hit Tacloban in November 2013. Topbilled by Nora Aunor, Taklub had its world premiere in the Un Certain Regard section of the 68th Cannes Film Festival.

Like carving an image off a soiled piece of wood, Direk Brillante shows us a damaged portrait of post-traumatic paranoia and suppressed misery caused by Haiyan's desolation – and sends the message across with a stronger emotional heft.
The Cannes film festival-winning director tones down the notorious shock treatment he's done so excessively in his films like Serbis and Kinatay and paints a more emotive image while maintaining his raw, docu-esque visual texture. This tender and quiet style is refreshing given Direk Brillante's provocative visuals and strong affinity for wantonly shocking his viewers; and yet it has produced perhaps the finest work in the Filipino director's extensive filmography.
Taklub's premise sets a perfect platform for Direk Brillante to use his strongest skill: his effective use of gloom atmospherics. The storm has left a cold blanket of fear in its wake and people cower under the phantom that lurks underneath their consciousness.

Direk Brillante--with the help of cinematographer Odyssey Flores, editor Diego Dobles, and screenwriter Honeylyn Joy Alipio—brings out the dented psyche of the people of Tacloban and translates it through gritty visual hints and subtle backstory revelations.

At the heart of the emotionally stricken province is the ethereal Nora Aunor – reuniting once more with Direk Brillante after their internationally recognized film Thy Womb.

The Superstar plays Bebeth, a carinderia owner searching for her children presumably lost during the typhoon's landfall.

Another survivor is young fisherman Erwin (played by Aaron Rivera) who is struggling to raise his two siblings after the storm took the lives of their parents.

Joining them in their journey through anguish is Larry (played by Julio Diaz), a tricycle driver who is using his devout faith to help him move on from his wife's untimely death.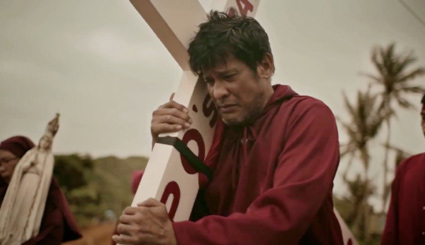 Julio Diaz


Rounding up this cast of broken souls is underrated screen gem Lou Veloso as Renato, an aging native of Tacloban who lost his entire family not because of the storm, but a fire engulfing his house in the beginning of the film.
Superlatives are not enough to describe Nora's riveting screen presence. Her controlled yet powerful performance alongside veterans Julio Diaz and Lou Veloso and the zestful Aaron Rivera propel the story from a mosaic of emotions in disarray to a polished piece that aligns well with the director's vision of an imperfect and perhaps hopeless world.
In more ways than one, Taklub is the most visually communicable film by Brillante Mendoza.

The director doesn't reveal the drama outright; instead he lets his characters slowly reveal their pain through restrained performances that only provide clues of what the storm really did to their lives.

The handheld shots inject urgency when needed while the low-key lighting and crafty deployment of subtle set details reveal the dismal situation of the character and how are they dealing with it.
The first act of the film makes you question its direction as the narrative seems cluttered and repetitive. But as the movie reaches a tipping point, the accumulation of heartbreaks and disappointments force the characters to implode – amplifying the drama by sheer progression of events.

Direk Brillante establishes the elements perfectly to blindside the audience with an emotionally searing conclusion that will not shock you but instead put you right in the shoes of the characters.

And what an honor it is to be placed in the shoes of a character fleshed out by a legend like Nora Aunor. Her sense of empathy for her role reaches out to you and brings you deep into the heart of Tacloban – where devastated roads and flattened houses are nothing compared to the hopelessly irreparable nature of a soul scarred for life.

Taklub – elevated by both Brillante Mendoza's masterful direction and Nora Aunor's marvellous acting – is an essential step in modern Philippine Cinema.

It will be screened at the Cultural Center of the Philippines this August 7 as the opening film of Cinemalaya 2015.


(To learn more, read: Cinemalaya 2015 reboots film fest with hopes of reaching neighboring countries; plans to expand reach through YouTube, pay per view option)




Ed's Note: The "PEP Review" section carries the views of individual reviewers, and does not necessarily reflect the views of the PEP editorial staff.


Originally published on July 30, 2015