Not all emotions are created equal. We all know that. But in Disney-Pixar's new animation film Inside Out, the differences are spelled out in black and white, er, yellow green, blue, red, purple and yellow.
Joy, Anger, Disgust, Sadness and Fear make 11-year-old Riley Andersen like any other girl. From the time she was born in Minnesota to the time she and her family relocated to San Francisco – these emotions make her dream, laugh, cry, explode and do other things normal children do.
The difference is that the creatures are not vague names who hide behind the little girl's moves. In Inside Out, they live and breathe, clash and go on a rampage, in the headquarters that is Riley's brain.

Joy is the eternal optimist. Anger, literally and figuratively, is red-hot with rage. Disgust shrieks "eew" at the sight of broccoli.

Blue-colored sadness harbors no positive thought at all. Fear is leery of everything.

But no emotion is an island. Each one is part of a team, a grand design. One can't do without the other.
Fear keeps the toddler Riley safe from dangerous electric circuits. Sadness makes Riley miss important people in her life. Joy, the leader of the team, makes every emotion feel good, especially when the chips are down.

Together, they make Riley the toddler, daughter, student, friend, and 11-year-old rise and fall like a normal person.
RIVETING. The way Inside Out shows how this happens makes it roller coaster riveting.

The two-hour ride across Emotionlandia, is just as well, emotionally-charged for the viewer – young and not-so-young.

The characters are not flesh and blood. They're animated. But that doesn't make them any less real.

They're as real as Riley's oh-so-low feeling when Sadness takes full control after she leaves friends in Minnesota and becomes the new girl in the block at school.

The down-in-the-dumps feeling is universal, whether you're a transferee student from Minnesota or the Philippines.

The on-top-of-the-world feeling is as true-to-life as the joy you feel when you're doing something you love – be it hockey (in Riley's case), or just singing to your heart's content (as in many Filipinos' case).

It's easy to see why the ever-smiling Joy heads the pack. Her can-do spirit finds a silver lining in every cloud; creates a path where none seems visible.

But Sadness? The literally and figuratively blue, bespectacled creature is an unlikely hero. Why sing praises for someone who predicts failure, thinks negatively, and drags her body around like it's the heaviest thing in the world?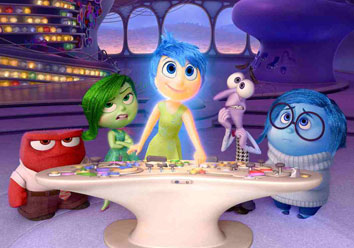 BIG SURPRISE. Inside Out springs a big surprise. And it's not just in the way self-effacing Sadness makes Riley feel guilty about her sins.

No spoiler alert here. It's enough to say that Sadness is not as bad as you think she is. She has virtue she herself never thought she has.
Even trigger-happy Anger is not all negative vibe. The red-hot guy makes up for his flaws in ways only his emotion-friends can see.
The point is – every emotion is there for a reason.
Self-assured Joy surprisingly needs Sadness. Joy, Sadness, Disgust and Fear need Anger, and so on and so forth, to make Riley whole.
Just as the adrenaline in our bodies turns us into heroes during crisis, emotions save the day when we need them most.
CHILDHOOD MEMORIES. Emotions serve another purpose. They create memories that make us smile or frown – from childhood all the way to eternity.
But why focus on childhood, or 11-year-old Riley, and not some more supposedly emotionally stable adult like mom or dad?
This is Disney, remember.
Besides, the makers of Inside Out—starting with director Pete Docter and his Fil-Am co-director Ronnie del Carmen– know how enchanting these early years are.
Most everything is a first: friends, school, pet, home, etc.
Adolescence also has many firsts. But none as simple –and easier to grasp -- than childhood.
By depicting childhood, Inside Out reaches out to our core. It reaches out to what makes us human even before all of life's complexities entered the scene.
It reminds us that family and friends bring us Joy. It makes us recall how we wanted to throw up when our parents first fed us vegetables (broccoli in Riley's case).
In other words, the appeal is more universal, and therefore, much more effective.
Why deal with a teenager, whose complexities a very young viewer can't grasp--when an innocent child is simpler, more lovable and relatable?
Probably the only manufactured thing about a child is his imaginary friend (Bing Bong, in Riley's case). But this, too, works because, haven't we had imaginary friends growing up?
EXALTED JOY. Inside Out reminds us that we used to live in this wonderful place called Childhood, where imagination reigns supreme. It tells us that all our emotions have a role to play – but the one that sits on the throne is a smiling, jumping entity called Joy.
She keeps the rest of her fellow-emotions – especially the negative ones, in place, much like a ship captain tells everyone what to do.
Inside Out, with its animated characters, fast pace and splashes of yellow green, fiery red, mint, light blue and purple--seems cut out for children at first.
But it's also adult fare for those who might have forgotten all about Joy and the exalted place she holds in our hearts.
You take irrepressible Joy with you, or reactivate her from within, when you step out of the movie house.
This is Inside Out's greatest achievement.

This Disney Pixar animated film will open in Philippine cinemas by August 19, 2015.


Ed's Note: The "PEP Review" section carries the views of individual reviewers and does not necessarily reflect the views of the PEP editorial staff.