In the local film industry, there is this thing we call "daring." This label has been coined to describe how a wholesome, high profile actor/actress ventures into the realms of provocative roles (i.e raunchy sex scenes, villain roles, nudity, etc).

Such is the case of Piolo Pascual's latest title role in Silong, a mystery film that tries to ape the fundamentals of psychological thrillers while revealing old school portraits of rural isolation and decay.

Jeffrey Hidalgo and Roy Sevilla Ho co-direct this psychological thriller featuring an ending that can send chills down your spine.
This, according to the powerfully handsome Piolo, is his first time experimenting in this genre, reminiscent of Aga Mulach's heel turn in Sa Aking Mga Kamay (1996) and Richard Gomez's dark twist in Dahas (1995). Given that he's been known for his Hollywood-worthy smile and knack to make every lady in the room swoon just by standing there, Piolo admits that the film's morose story alone will definitely surprise and impress everyone – even his detractors.
To say this, however, doesn't mean that the film did well on meeting the standards of the genre it is trying to pursue or elevate the actors' careers into greater heights.


SYNOPSIS. Silong starts with a sequence showing Dr. Miguel Cascarro (Piolo Pascual) about to have dinner with his wife, Caroline (Angel Jacob).

Caroline giddily shows off baby items to Miguel, hinting to moviegoers that they're expecting a bundle of joy soon. All is well and beautiful except for one thing: Caroline is dead, and Miguel is daydreaming the entire thin.

Haunted by and mourning the death of his wife, Miguel shuns the advice of his brother-in-law Gilbert (Guji Lorenzana) to just let go of their home in the province and make a living in the city as a doctor – allowing him to finally move on.
The melancholic doctor Miguel states, "Hindi naman ako mag-isa. Hindi palagi."
Everything else around him stands still, and he couldn't care less about the things that need fixing in his crumbling house.
Desperate, Miguel tries to save his house from creditors but gets disrupted by the arrival of Valerie (Rhian Ramos). Miguel accidentally finds Valerie in the middle of a country road, wounded and gasping for help. He then brings her home and tends to her wounds as they try to figure things out – unfolding a supposedly intricate puzzle of past demons and hidden agendas.
Miguel seems to have been saved from a life of gloom. His house loses its sinister atmosphere as Valerie keeps everything clean and orderly.

But questions beg for answers. Why is Valerie running away, looking scared, badly-beaten and bloodied, with lacerations all over her body? Who is she? Can she be trusted despite her dark secrets?
Moviegoers will find out when Silong opens in cinemas on September 16.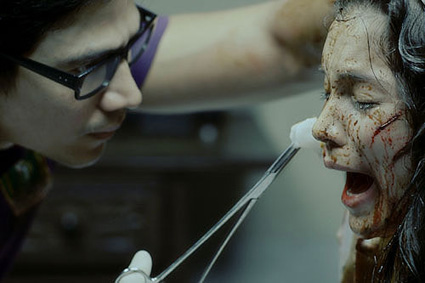 A BROKEN SPORTS CAR. The problem with Silong is not its premise—because it's quite interesting on paper. The rot starts, unfortunately, from the execution. The story idea was not sharply or keenly fleshed out.

Ultimately, watching Silong is like looking at a lavishly made Ferrari that runs on broken engine parts—everything seems nice on the surface; but when you hit that ignition, everything starts to fall apart.
By the time the film hits the one-hour mark, I've pretty much lost interest in the story as the lack of proper pacing and the poorly thought-of sequences bludgeons any sort of potential the film could possibly have. There is a sex scene that does not resemble sex in the slightest way (viewers will get to see Piolo ravishing Rhian's character on top of a dining table).

The script couldn't fully utilize Piolo's acting chops that belie his undeniable screen talent while Rhian's acting hovers on unintentional comedy.


THAT ENDING THOUGH. We do not usually talk about the ending of a film but it is perhaps the only reason why Silong could be worth a double-take.

The ending swings with a home-run hitter that genuinely produces a thrilling sequence that can send chills down your spine.

It attempts to close the narrative in a way that you would not expect. Part of us believe that directors Jeffrey Hidalgo and Roy Sevilla Ho wrote the ending first before anything else—which is, to be honest, not the most promising way of writing a film.

The final scene, as good as it is, still feels detached from the movie's entirety.

Nonetheless, the film's conclusion saves Silong turns from a "mediocre movie" into a "mediocre movie with a very, very good ending."


With reports from Rachelle Siazon




Ed's Note: The "PEP Review" section carries the views of individual reviewers, and does not necessarily reflect the views of the PEP editorial team.