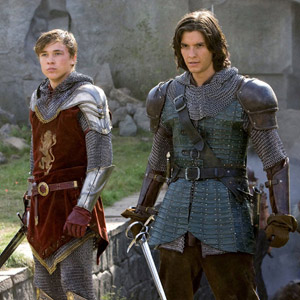 ---

Disney's The Chronicles of Narnia: Prince Caspianis King of Philippine box-office. It is now at the No. 1 spot with a five-day(June 4-8) nationwide opening weekend of P44.97-million.
This was announced today by Victor R. Cabrera, generalmanager of Columbia Pictures Industries, Inc. They sub-distributed the film forWalt Disney Studios Motion Pictures International.
That debut figure breaks two records in the Disney books: itshatters the opening weekend of 2005's Chronicles of Narnia: The Lion, theWitch and the Wardrobe at P40.74-million, and claims the all-time, fourthbiggest opening for a Disney film.
The Top 20 cinemas that posted the highest receipts for PrinceCaspian are Trinoma (P2.54 million), SM North EDSA (P1.83 million), SM Mallof Asia (P1.78 million), SM Megamall (P1.68 million), Glorietta 4 (P1.54million), Power Plant (P1.37 million), Gateway Cineplex (P1.317 million), SMCebu (P1.312 million), Greenbelt III (P1.29 million), and Alabang Town Center(P1.11 million).
They are followed by Robinsons Ermita (P1.07 million), AyalaCebu (1.05 million), Greenhills (P1.01 million), Shangri-la Mall (P956,407),Festival Mall (P925,134), Robinsons Galleria (P834,940), Eastwood (P807,821),SM Fairview (P757,133), Sta. Lucia East (P707,352), and SM Baguio (P706,968).
The enchanting characters of C.S. Lewis' timeless fantasycome to dazzling life again in The Chronicles of Narnia: Prince Caspian.This time, the Pevensie siblings—Peter, Susan, Edmund, and Lucy—are magicallytransported from World War II era England to Narnia through a tube station nearLondon's Trafalgar Square. They then embark on a perilous new adventure and aneven greater test of their faith and courage.
One year after the incredible events of The Lion, theWitch and the Wardrobe, the former Kings and Queens of Narnia findthemselves back in that faraway realm, only to discover that more than 1,300years have passed in Narnian time. During their absence, the Golden Age ofNarnia has faded into legend. The land's magical talking animals and mythicalcreatures exist as little more than folk tales to the Telmarines, a race ofhumans led by the merciless Lord Miraz. The mighty lion Aslan has not been seenin a thousand years.
ADVERTISEMENT - CONTINUE READING BELOW
The four children have been summoned back to Narnia byCaspian, the young heir to the Telmarine throne, to combat his evil uncleMiraz.
Still playing across the Philippines, TheChronicles of Narnia: Prince Caspian is distributed by Walt Disney StudiosMotion Pictures International through Columbia Pictures.