Movie producers are cashing in on the box-office magic of mistress movies, whose stratospheric earnings have long made them the toast of showbizlandia.
Etiquette for Mistresses, based on its title alone, is the latest movie to ride on this bandwagon.
And true enough, this movie based on Jullie Yap Daza's bestseller with the same title earned P15 million on its first day of showing alone.
At the center of it all is the ever-present and colorful mistress. Moviegoers—like the young woman who stood patiently in line behind me to buy tickets—want to know what makes this woman tick.
What is the attraction they have for rich and married guys? Why would a successful guy risk marriage, family, and reputation for a liaison with a woman that society sees as nothing more than a gold digger? Add to this, why would a successful woman want to stay in a relationship with a man legally tied up to someone else?
Moviegoers have matured, and the presence of a powerhouse cast—Kim Chiu, Kris Aquino, Iza Calzado, the comebacking Claudine Barretto, and Cheena Crab—is but icing on the cake of a good story.
Young moviegoers now are after the story, not the stars, thank you.
They may overlook how Kris, as Georgia, with her corporate get-ups and her respect for social propriety, looks and behaves more like a wife than a mistress.
Moviegoers may have also noticed how Charley, played by Cheena, who is the richest mistress in the story, digresses from the "other woman" mold. Charley isn't as glamorous, stylish, and youthful as most mistresses are expected to be.
INSIGHTS. What's important, and rightly so, is that the movie is a treasure trove of insights and vignettes on what it's like to be a mistress in the Philippines.
Sure, the mistress has all the comforts in life—a condo unit all to herself, expensive bags, a wardrobe of stylish clothes, a leisurely lifestyle, parties here and there.
Kim is the youngest mistress, Ina, who left behind her career as a lounge singer in Cebu to become a kept woman in Manila. She has an upscale condo unit maintained by her lover, played by Zoren Legaspi.
In the movie, Kim shows her vulnerable side in the beginning, but she eventually develops a tough exterior, especially when her friendship with the other mistresses is put to the test. Her role marks the first "adult" character she has taken on in a career marked by rom-com lead roles.
But even though she dresses the part of a mistress, I feel that Kim still has shortcomings: she looks cute but lacks sex appeal; she is sexy but lacks seductiveness.
Chloe, played by Claudine, is the scandalous mistress who courts danger by teasing her lover, played by Eddie Gutierrez, while his wife sits dangerously close. Chloe has herown credit card, drives a luxury car, lives in a glass-encased house filled with servants.
Claudine, who comes back to the big screen after five years, delivers a stunning performance as a volatile and demanding mistress.
Georgia (Kris), who plays the most senior mistress, has her own restaurant and coterie of assistants. She is also the woman tasked to teach Ina (Kim) the rules of etiquette governing a mistress.
But even as they live high and well, these kept women are not exactly beaming with joy.
Georgia spends Christmas—when her lover is with his wife, of course—in the company of needy people she's helping out because it's mighty lonely having no one to celebrate the season with.
LASTING FRIENDSHIP. Since misery loves company, the mistresses (including the lawyer Stella, played by Iza) form a lasting friendship borne of common needs and wants.
They know fighting the wife is like fighting City Hall. So they stay out of the way, sometimes.
They dare tempt the gods, at other times, and bring friends to the verge of a heart attack.
Ina (Kim) says hi to her lover (Zoren) within breathing distance of his wife (Aiko Melendez).
Chloe (Claudine) entices her married lover (Eddie) to join her in the powder room when she sees him dining with his wife (Pilar Pilapil), in a restaurant that Claudine knows the couple frequent.
But in the end, the mistresses largely know only secluded homes, quiet condo units, and beauty salons not patronized by wives. Chito Roño's movie reveals that there are salons favored by mistresses and that the latter form informal clubs of their own.
So why do mistresses keep doing what they're doing?
A big revelation in the movie is that money, often perceived as the one thing that attracts beautiful young women to older married men, is not the only come-on.
The movie says that mistresses can fall deeply in love.
Otherwise, why will a lawyer like Stella (Iza) stick around while her man (Tirso Cruz III) is in the throes of death?



SECOND LOOK AT MARRIAGE. The touching scene between Stella and her broadcaster lover makes us take a long, hard look at mistresses, as well as the institution of marriage.
Iza and Tirso are outstanding in their roles. Tirso's few minutes on screen leave a lasting impression, and Iza, even with the experienced actress Claudine, leaves no one in doubt that she is an important actress.
The touching scene goes beyond unfolding the intense passion between mistress and lover, and ends up showing that love, not a piece of paper, is the tie that binds.
By being the opposite of the "boring" wives, these mistresses may actually teach married women how to keep their man.
By injecting funny, true-to-life moments,Etiquette for Mistresses is a light, engaging treatment to an otherwise touchy topic.
There is a scene where a married man is with his mistress in his car, on their way, presumably, to a motel. Unknown to them, the man's wife is crouched in the back seat!
There is also a scene where Chloe (Claudine) accompanies Ina (Kim) to a high-end boutique to get Ina to buy a designer bag using the money of her lover (Zoren). Kim has a hard enough time choosing one bag—attached as she is to her cheap, old one—when Claudine tells her to choose two more.
Yes, we can chuckle, at the mess mistresses get themselves into.
But what we may not see is that, in doing so, we're also laughing at ourselves—at the sins of commission and omission of wives, which drive husbands to the arms of other women, and at the failure of husbands to stay true to those they marry because wives fall short of their expectations.
Etiquette for Mistresses touches a raw nerve. It makes us want to shout "Ouch!," but we don't, because the director keeps things light and breezy.
We have been taught to see "the other woman" as the sinful villainess in broken marriages. But we surprise ourselves by laughing along with the mistresses, as we watch them go through their colorful and dangerous lives.
You might say, she who is without sin should cast the first stone.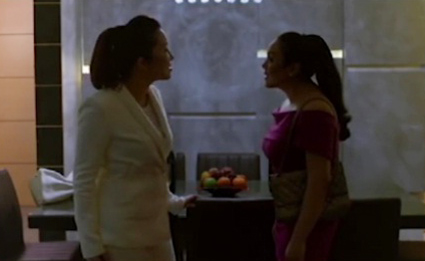 PEPsters, what can you say about Etiquette for Mistresses?

Share your thoughts in the comments section below.


(Read: 10 reasons why you should (or shouldn't) watch Etiquette for Mistresses)



Ed's Note: The "PEP Review" section carries the views of individual reviewers and does not necessarily reflect the views of the PEP editorial staff.