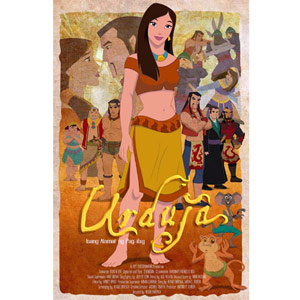 ---

Starting June 18, Filipinos will be able to watch thecountry's first full-length digital and traditional animation film createdentirely by Pinoy animators. Done by over 400 Filipino animators who producedover 120,000 drawings that will run in 1,922 scenes equivalent to 8,771 feet offilm, Urduja is a dream project that took more than 11 years ofplanning, production, and completion.


From the collective dedication and hard work of APT Entertainment, Seventoon,and Imaginary Friends, the love story of a Filipina princess and a Chinesepirate will be brought to life on the big screen. Viewers can look forward to acompelling story, beautiful music, and excellent 2D and 3D animation that ispurely and proudly Philippine-made.
Urduja features the voices of a stellar lineup ofdubbers led by Asia's Songbird Regine Velasquez as the voice of Urduja herselfand Cesar Montano as her love interest, the Chinese pirate Limhang. Completingthe powerhouse lineup are Eddie Garcia as the voice of Lakanpati, JohnnyDelgado as Wang, Jay Manalo as Simakwel, Michael V as Kukut the rat, Allan K asTarsir, Ruby Rodriguez as Mayumi, and Epi Quizon as Daisuke.
As the only daughter of Lakanpati, chieftain of the Tawilisitribe of Central Luzon, Urduja was raised to be a warrior to help protect herpeople from their rival tribe, the Batyaws. However, Lakanpati's failing healthhas given rise to his concern from the tribe and the urgency of finding a manwhom the Tawilisi warrior princess will marry and to whom Lakanpati willrelinquish the tribe's leadership.
The man Lakanpati deems most eligible to become Urduja'shusband and become the future Tawilisi chief is Simakwel, a Tawilisi warriorwhom Urduja hates. Oblivious of Simakwel's ambitious and scheming ways,Lakanpati tries his best to convince Urduja to marry him. However, Urduja meetsLimhang, who lands on the Tawilisi shore as he flees the wrath of theruthlessly greedy Wang.


From this chance meeting blooms a beautiful romance between Urduja and Limhang,who will have to brave all odds to fight for their love for each other. Limhangis a foreigner who must prove his sincere intentions not only for Urduja butalso for the Tawilisi foreigner while Urduja has to fulfill her obligations asa daughter to Lakanpati and a princess of her tribe.
ADVERTISEMENT - CONTINUE READING BELOW
The movie also features beautiful songs sung by thecharacters themselves in a number of memorable scenes that will captivate theaudience. The movie's impressive songs are released in an original soundtrack.The carrier single is the movie's main theme song, "Babae Ako," sung by RegineVelasquez, with lyrics by Joey de Leon, music provided by Ogie Alcasid, andmusic arrangement by Mon Faustino and Noel Zarate.

Click HERE to view photos of the animated characters of Urduja.