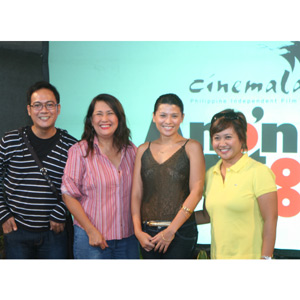 ---

Twenty new digital films will compete in the 2008 CinemalayaIndependent film Festival and Competition from July 11 to 20 at the CulturalCenter of the Philippines. This year's theme has the tagline, "AnongKwento Mo?" This ad campaign conveys the message that Filipinos everywhere haveinteresting stories to tell, especially Filipino independent filmmakers.


Also new this year in Cinemalaya is the tribute to Manuel Conde, apioneer in filipino independent filmaking and a true auteur who produced,wrote, directed and acted in his films. Conde is credited with introducing Filipino films abroad, particularlyat the Venice Film Festival. Six Condefilms were shown during the Festival, namely: Genghis Khan (1950), IbongAdarna (1955), Veganza (1958), Señorito (1953), Cruz NaKawayan (1956), and El Robo (1957). The book The Cinema of Manuel Conde by Dr. Nicanor G. Tiongsonwill be launched on July 16 during the Cinemalaya Film Fest.
Ten films will compete in the full-length category. These are 100 by Chris Martinez, BabyAngelo by Joel Ruiz and Abi Aquino, Boses by Ellen Ongkeko-Marfil, Brutusby Tara Illenberger, Concerto by Paul Alexander Morales, HulingPasada by Paul Sta. Ana, Jay by Francis Xavier E. Pasion, My FakeAmerican Accent by Onnah Valera, Namets by Emilio 'Jay' Abello and Rancheroby Michael Christian Cardos.
The full-length feature film category finalists wereselected from a total of 194 entries submitted for the 2008 Cenimalaya. Asfinalists, they received an initial seed investment of P500,000 from EconolinkInvestment, Inc. The final winningentry will be given an additional grant of P200,000 plus the Cinemalaya Trophyduring the awarding ceremony of July 20 at the Cultural Center of thePhilippines.
Ten films will compete in the short film category. These are: Andong by Rommel 'Milo' Tolentino, Ang Ibang Mga Pamilya byJoel P. Ruiz, Angan-Angan (Dreams) by Sheron R. Dayoc, Diamanteng Langit by Vic Acedillo, Jr., God Only Knows by Mark V. Reyes, HulingBiktima by Vitaliano A. Rave, My Pet by Ann G. Bigornia, Panggarisby Dexter B. Cayanes, Trails of Water by Sheron R. Dayoc, and Tutosby L.A. Yamsuan.
ADVERTISEMENT - CONTINUE READING BELOW
The winner of the short film category will receive aP100,000 grant plus the Balanghai Cinemalaya trophy during the awardingceremony on July 20 at the CCP.
Cinemalaya 2008 will be highlighted by the screening ofworld premieres, director's cut and the very best Filipino independent films onwide-ranging and controversial topics. Films from Cinemalaya 2005, 2006 and2007 will also be shown. Close to ahundred films will be on an exhibition during the ten-day festival.
This year, Cinemalaya introduces the children's section,which aims to encourage the development and production of culturally relevantcontent for Filipino children. Nine films will be competing for the Rene O.Villanueva Prize, in honor of the late children's book author. Presented incooperation with the National Council for Children's Television, the CinemalayaChildren's section will be dedicated to short narrative features made forviewing of children ages 3-13.
Another major event of Cinemalaya 2008 is the CinemalayaFilm Congress on July 15-16 at the CCP Little Theater. The theme of the Congress will be "Spreadingthe News: Promoting, Distributing and Exhibiting Indie Films." Film artists,technicians and businessmen will discuss the following topics: 1) Making Indie Films: Self Expression,Social Commitment, Compromise; 2) Promoting Indie Films: Building Audiences for Indie Films; 3)distributing Indie Films: Systems Legalto Illegal; and 4) Exhibiting Indie Films: From Cine Katipunan to Cannes.
Films in Cinemalaya 2008 will be shown at all CCP venues,namely, the Main Theater, the Little Theater, Dream Theater, Tanghalang HusengBatute, Silangan Hall, and the MKP Hall.
Now on the fourth year, Cinemalaya is presented by theCinemalaya Foundation, Cultural Center of the Philippines, the Film DevelopmentCouncil of the Philippines and Econolink Investments, Inc. Cinemalaya is an all-digital filmcompetition aimed to discover new Filipino filmmakers.
ADVERTISEMENT - CONTINUE READING BELOW
For ticket information, please call the CCP MarketingDepartment at 551-7930 or 832-1125 local 1800 to 1808 and the CCP Box Office at8323704 or 832-1125 local 1409.