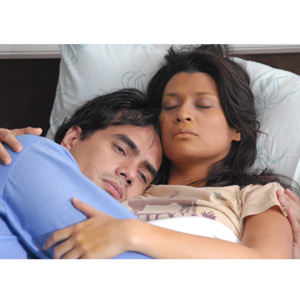 ---

From July 11-20, the public will be able to see 10full-length entries and 10 short films that will compete in the fourth editionof the Cinemalaya Philippine Independent Film Festival. This year's edition hasthe theme Anong Kwento Mo?, which conveys the message that Filipinoseverywhere have interesting stories to tell, especially Filipino independentfilmmakers.


Mainstream stars such as Mylene Dizon, Eugene Domingo, Tessie Tomas, TJTrinidad, Ryan Eigenmann, Baron Geisler, Coco Martin, Ces Quesada, and MeryllSoriano take part in the full-length films of Cinemalaya 2008.


Organizers earlier announced that two of the ten chosen finalists would not betaking part in Cinemalaya 2008. Emman dela Cruz's entry titled 1434456 isabout a Punjabi widower named Ranjeet Singh, also fondly called Jimmy Paybsiks.The lead character, who lives in contemporary Manila, reflects the struggles ofa migrant sector in the country-our Indian neighbors.


Antiparang Basag, supposed to be directed by Edith Asuncion, backed outdue to the lack of a counterpart-financing scheme. This entry narrates how awoman helped four octogenarians fulfill their simple wishes in life.
In replacement of 1434456, Emilio "Jay" Abello wasable to enter the Cinemalaya competition with his entry Namets (which isthe Ilonggo word for yummy). This romantic comedy is a colorful rollickingcelebration of food as well as love.


Ellen Ongkeko-Marfil filled the final slot with her film titled Boses,shot in San Antonio, Zambales. A wounded violinist (played by Coke Bolipata)meets a child prodigy and helps him recover.


The other Cinemalaya entries for this year include 100 by ChrisMartinez, Baby Angelo by Joel Ruiz and Abi Aquino, Brutus by TaraIllenberger, Concerto by Paul Morales, Huling Pasada by Paul Sta.Ana, Jay by Francis Pasion, My Fake American Accent by OnnahValera and Ned Trespeces, and Ranchero by Michael Cardoz.


Synopses of full-length Cinemalaya entries:
ADVERTISEMENT - CONTINUE READING BELOW
100


According to filmmaker Chris Martinez, hisofficial entry to Cinemalaya is a "celebration of the senses and what lifehas to offer." His goal was to do a film about death in a young fresh way. Bydoing so he believes he celebrates life. 100 chronicles the last threemonths of a cancer-stricken woman (played by Mylene Dizon) who has a list ofthings to do before she dies. Her list of tasks, mostly dealing with closureand practical matters, covers the worldly and spiritual worlds as people closeto her share her last days. The film examines the betrayal of the body,celebrates the senses and contemplates the end of life and how to live it. Alight-hearted, briskly paced, youthful take on a classic subject, 100stars today's most exciting performers such as Mylene Dizon, Eugene Domingo,Tessie Tomas, TJ Trinidad, Ryan Eigenmann, Simon Ibarra, and others. Under thecreative supervision of Marlon Rivera, 100 is written and directed byChris Martinez.


Baby Angelo
TV actress Ces Quesada gives the performance of her life in BabyAngelo. Her expressively sad eyes are able to convey emotions without theneed for dialogue. When an aborted baby is found in the dumpster of a smallapartment complex, the lives of its tenants are turned upside down, and theyare forced to confront the ghosts of their own past. Though it is theinvestigation of this sad event that moves the film Baby Angelo forward,the story is really about the people that inhabit this story. Their lives are linked by a commonemptiness, lost opportunities; lives cut abruptly by circumstance. And when atragedy hangs over them, they are forced to examine their own lives, a seriesof inconsequential miseries that add up to absolutely nothing at all.


ADVERTISEMENT - CONTINUE READING BELOW
Boses
Award-winning director Ellen Ongkeko-Marfil describes herwork as a musical journey. In this movie, a wounded violinist meets a childprodigy and helps him recover. Boses is the story of a musician whogains back his humanity by giving violin lessons to a child of the slums, whoin turn, is able to get back his voice from a muted, abused and desensitizedexistence. This is a story of awonderful friendship founded on the sublime beauty of music between a violin teacherand his student, a mute seven-year old abused child in a shelter. Ariel (played by Coke Bolipata) discoversthe immense talent of Onyok hiding behind a veil of silence and pain caused byan unhappy and cruel father. In thedeveloping relationship of teacher and student, both characters reveal more ofthemselves that otherwise may have remained unspoken. They discover eachother's strengths and failures by way of expressing it through the violin.

Brutus
Regarding her film, director Tara Illenberger says, "Gustonaming ipakita ang ganda ng Pilipinas, specifically Mindoro. We also want toshow the need to preserve the forests."
Two Mangyan kids are hired by illegal loggers to smugglewood from the mountains of Mindoro. Hiding the logs beneath a bamboo raft, the kids embark on a dangerousjourney through whitewater and harsh terrain, risking life and limb to deliverthe goods to the lowlands. Theydiscover a world completely different from their own-run by the greed of men, aworld governed by ideologies that bring about the armed conflict that plaguesthe Mindoro highlands, the home of their own people. She adds, "Apart fromthe serious subject it's also a coming of age film for the two kids. I'm alsoproud of the performances of Ronnie Lazaro and Yul Servo."


Concerto

Theater director Paul Morales takes on the digital medium with Concerto.He pointed out, "This is a deeply personal story about my family and howwe survived during the second World War. It shows the importance of music andwas able to transcend borders."
ADVERTISEMENT - CONTINUE READING BELOW
Concerto is about a special piano concert is held inthe forest outside Davao City during World War II. A displaced Filipino family,lead by former Military Commander Ricardo and his wife Julia, become acquaintedwith a group of Japanese officers. Their son Joselito, a Japanese speaker,becomes the conduit with the neighboring Japanese. Their daughters Niña, anaspiring concert pianist and the musically gifted Maria, who is able to play byear, are alternately repulsed and intrigued by the officers.
Family values are questioned as the family treads the thinline between enmity and friendship with the occupying Japanese. Based on true stories from the director'sown family history, Concerto celebrates a family whose reverence forlife, expressed through their love of music and friendship, can survive evenwar, and shows how beauty and compassion does grow in even the harshest ofconditions. Five actors from Japan were cast as officers. Direk Paul says,"I'm blessed with a talented cast that include Jay Aquitania, MeryllSoriano, Shamaine Buencamino, and Nonoy Froilan."


Huling Pasada
The title, according to director Paul Sta. Ana, refers tothe taxi driver's shift and to a writer's most previous work. The story followsthe creative process of Ruby, a prolific writer, abandoned wife and protectivemother. She writes about Mario, a taxidriver who becomes a father figure to a street child in the hustle and bustleof the metropolis. As Ruby tries toresolve Mario and child's story, she seeks refuge in her own creativeoutput: the line between reality andfiction is blurred, and her character's past is entangled with her owninevitable future. Two Ateneans share the directing duties for Huling Pasada:Paul Sta. Ana and Alvin Yapan.
ADVERTISEMENT - CONTINUE READING BELOW
Jay
Young director Francis Pasion summarizes his film asfollows: "Baron Geisler's role as a gay TV producer personifies mycommentary on Philippine media."
Jay
is the name of two protagonists inthe film. Jay Santiago is a gay TV producer documenting the family of a gayhate crime victim who happens to be his namesake, Jay Mercado. In the process of producing for his TVprogram, Jay Santiago intrudes into the private grief of the other Jay's familyand he is drawn to the secret life and love of his subject. Direk Francisissues a warning for his film, "Do not believe everything you see astruth." Aside from Baron, this film also stars Coco Martin as Edward.
My Fake American Accent
Writer-director of this Cinemalaya entry Onnah Valera said,"I wanted to capture ang buhay na walang tulugan."
Set in one of the high rises of the Makati, My FakeAmerican Accent is a look into the lives of call center personnel. It's aslice-of-life workplace comedy following the lives of several Technical Supportcall center agents in the span of six months. They handle calls and provideinbound tech support for the American customers of an Internet company in theUnited States. Speaking with a fake American accent is a prerequisite for thejob. This ensemble comedy is an inside look into the maddening, sleep-deprived,caffeine-fuelled lives of those who ply their trade in the call centerindustry.
Namets (Yummy)
Director Jay Abello describes his film Namets as aromantic comedy. He proudly proclaims, "It is the no angst film inCinemalaya." He praises the acting skill of lead actress Angel Jacob who pickedup the Ilonggo dialect in two months. Abello is ecstatic that they shot thedialogue almost entirely in Illonggo. Renowned director Peque Gallaga was alsocast as a mafia boss. Namets (Yummy) follows the ongoingflirtation between Manuel and Lourdes, two native of the Negros province whoselives revolve around food. Along theway, we are treated to the full panorama of Ilonggo cuisine and the idiosyncrasiesof appreciating it. Namets is acolorful rollicking celebration of food as well as love. Jay Abello explains,"If you notice, the love of food is very much part of our culture, notjust in Negros but as Filipinos in general."


Ranchero
ADVERTISEMENT - CONTINUE READING BELOW
The unpredictability of life in jail is the subject of Ranchero.Director Michael Cardoz likes characters who aren't what they seem."Merong kontrabida na nagiging bida."
Ranchero unfolds in a small provincial jail in Rizal.It's about Ricardo whose last day in jail is today. He and his close friendMiyong work in the jail's kitchen. The two spent the whole morning talkingabout Ricardo's plans when he gets out of jail. After lunch, one of the kitchenknives went missing and this was brought to the attention of jail officials.Not only will this event affect food preparation in the jail's kitchen but alsothe lives of both of them.