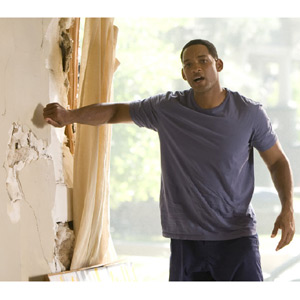 ---

Every superhero has a weakness. Hancock (Will Smith) justhappens to be flush with them.
Fresh from the critical and box-office triumphs of actionthrillers The Kingdom (starring Jamie Foxx and Jennifer Garner) and TheRundown (starring The Rock and Seann William Scott), actor-director PeterBerg now helms Columbia Pictures' new action adventure Hancock starringWill Smith and Charlize Theron.
In the film, Hancock hates his job, loves his booze, andwould be pulled over for flying under the influence—if anyone could catch himafter he has plowed through a building or a traffic sign.


"Hancock does as much damage as good," directorPeter Berg says from the set on Hollywood Boulevard, where he and crews haveturned over trucks, set fires, and scattered plastic rubble to turn Los Angelesinto a city of ruin. "There are alot of fun things to making a movie, but the best is creating an entire worldthat feels real."
Part of getting real: using a harness and wires, not a greenscreen, to make Will's superhero character fly. The actor was suspended 200feet above the ground and propelled at 50 mph, and he's more than fine with it."The computer effects look great," Will Smith says after being unhookedfrom his ride down the famed street. "But it's more fun to get your handsdirty."
Peter Berg made his writing and directing debut with TV'sacclaimed Chicago Hope, then wrote and directed the feature film VeryBad Things (1998), starring Cameron Diaz.. His next feature film, the smashhit The Rundown (2003), gave Berg the opportunity to direct someoneelse's screenplay. He then directed the sports drama Friday Night Lightsstarring Billy Bob Thornton, which was such a big hit that it spawned a TVseries of the same name, for which Berg directed the pilot. More recently, hehelmed the Iraq War thriller The Kingdom (2007) for the big screen.
ADVERTISEMENT - CONTINUE READING BELOW
Berg's acting career is also going strong, having played arecurring role on ABC's hit series Alias and roles in films such as Collateral(2004) and Smokin' Aces (2007).
Opening across the Philippines on Thursday, July 3, Hancockis distributed by Columbia Pictures, local office of Sony Pictures ReleasingInternational.