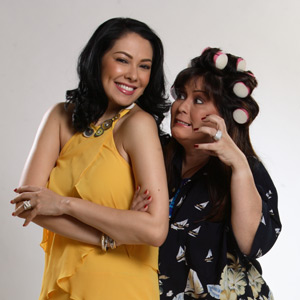 ---
After more than 35 years, Annabelle Rama returns to the silver screenfor her comeback movie produced by GMA Films and Regal Entertainment. In MyMonster Mom, the feisty talent manager stars with her unica hija RuffaGutierrez in this heartwarming yet funny tale about a mother who becomesreunited with her daughter after many years of absence.
During the first press conference of My Monster Mom,Ruffa told the press, "It is such a joy to work with my mom for the first time.There are so many stories to tell all of you. I'd like to thank Mother Lily[Monteverde] and GMA Films for giving me the chance to work with my monster momand for allowing me to work with Direk Joey Reyes for the second time. Yungfirst time po namin magkasama, Regal Shocker days pa!"


Annabelle recalls her first taping day for My Monster Mom,"Ito talaga ang unang totoong pelikula ko kasi nakaka-arte talaga ako. Sabi saakin ni Ruffa, 'Ma, ingat ka kay Direk Joey [Reyes]. Dapat prepared ka sascript mo, sa acting mo.' Kaya grabe, pinagpawisan ako. Ang preparation kohanggang langit."


She says that she turned down a lot of movie offers before but My MonsterMom was different. "Ako hindi ako humihingi ng project, ako ino-offeran.Kaya ko nagustuhan ko itong My Monster Mom, mother role din ang istoryakaya sabi ko baka hindi ako mahirapan umarte dito. Nung nabasa ko ang script,lalo kong nagustuhan kasi film house pa ni Mother Lily at ng GMA. Si Direk Joeypa ang director, siyempre blockbuster director."


Annabelle became known as a "bomba" star during the 1970s for films such as Hidhid(1971), Hayok (1970), and Uhaw (1970).


ADVERTISEMENT - CONTINUE READING BELOW

SYNOPSIS. My Monster Mom focuses on Annabelle Rama as the"monster" to her three beautiful and charming kids. She plays the role of EsmeFajardo who becomes pregnant at the young age of 16 years old. This promptedEsme to entrust her eldest child (Ruffa Gutierrez) to her brother andsister-in-law who happens to migrate in the United States. Despite herinstability in life, Esme promises that she will be reunited with her daughter.
However, the distance proved to be a hindrance since Esmewas unable to communicate regularly with her brother and her only child. Abbygrew up without knowing her biological mother. After getting into a series offailed relationships, Esme bears two other children Pipo (Mart Escudero) andBoboy (JC de Vera), both of whom have different fathers.


A shocking blow came to Esme's life when she learned that her brother died inthe United States. Abby then learns about her real identity and decides to cometo the Philippines to meet Esme.
ADVERTISEMENT - CONTINUE READING BELOW
Both Esme and Abby were unprepared for their suddenreunion. They both lived in two different worlds and could not understand eachother's culture and way of life. Abby the
balikbayan
could not adapt tothe Pinoy culture since she has been living as a renowned fashion stylist inNew York for all her life. Esme, on the other hand, lives in Kamuning and is astreet-smart person. Her friends are all equally formidable, namely a retiredJapayuki who recruits Filipinas to be sent abroad as entertainers (played byEugene Domingo) and an ageing Visayan queen who sells jewelry (played by KhryssAdalia).
As Esme and Abby begin to accept their similarities and differences, theyrealize that despite their opposite lives, they do share the same geneticheritage. This co-production of GMA Films and Regal Entertainment is a must-seeamusing movie for everyone who wants to get a good laugh while watching this and thinking of theirown "monster" moms.
My Monster Mom
opens in theaters nationwide starting July 2, 2008.