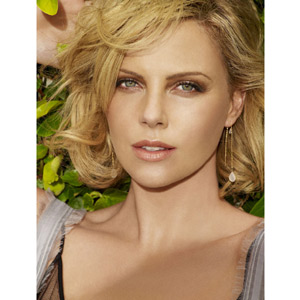 ---

Oscar-winning actress Charlize Theron is Mary, a marriedwoman who finds herself the object of a superhero's affection, in ColumbiaPictures's new action adventure, Hancock.
A tortured and flawed superhero who crash-lands in LosAngeles, causing chaos in the city, Hancock (Will Smith) isn't the kind of manwho cares what other people think. His perspective changes when he saves thelife of PR executive Ray Embrey (Jason Bateman). Suddenly, the sardonic superhero begins to realize that he mayhave a vulnerable side after all. Facing that will be Hancock's greatest challenge yet—and a task that mayprove impossible as Ray's wife, Mary (Charlize), insists that he's a lostcause.
"Charlize Theron is the musical note that fits perfectlywith Will Smith and Jason Bateman," says producer Akiva Goldsman. "We needed three people, all of whom theaudience would want to see win; it was a real balancing act. And Charlize provides that criticalbalance."
For her part, Charlize was attracted to her role for amultitude of reasons. First, of course,was the chance to be paired again with Smith, whom she'd worked with on TheLegend of Bagger Vance. " Will playsthe part so beautifully," she says.
ADVERTISEMENT - CONTINUE READING BELOW
The Hollywood actress was also impressed by the script,which she found had rich and compelling characters. Where her husband Ray sees only the superhero that Hancockcould be someday, Mary comes from the perspective of the average citizen.
"She is fed up with Hancock's bad behaviorwhich, on the surface, appears to be totally irresponsible and destructive,"she says. "She is adamant that he notdisrupt the idyllic life she's created with Ray and their son. But when Hancock starts to show some signsthat there is light at the end of the tunnel and that he might turn hisbehavior around, and she still doesn't accept him, then you start to questionwhy.
"There is a real well-developed story here and the storylent itself to human condition," continues Charlize. "My character makes thisconscious decision to live in suburbia and be this soccer mom to her stepsonand be the perfect wife. She lives in this bubble and everything in that bubbleis very sacred to her. She is adamant in protecting that. People who tend to dothat, which usually means that the character is hiding some characteristicinside themselves that scares them. That is Mary's case.
ADVERTISEMENT - CONTINUE READING BELOW
"I find that verycomplex. We want to believe that womenwho are married and have kids don't have this fear deep down inside that thereis a part of themselves that is probably not as content as they think they are.It is proven here when Hancock shows up in her life. Everything that she hasalways feared in her life—she has this immense chemistry with this guy—totallythrows her life upside down."
Opening across the Philippines on Thursday, July 3, Hancockis distributed by Columbia Pictures, local office of Sony Pictures ReleasingInternational.