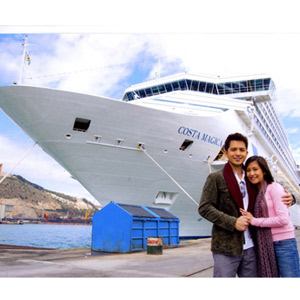 ---

For two weeks, GMA-7 stars embarked on aNorthern Italy cruise aboard the luxury ship Costa Magica to show the lighterside of working overseas. GMA Films' newest comedy titled I.T.A.L.Y. (ITrust and Love You) will take viewers on a romantic journey that takesplace in three continents, five countries, and 13 cities.


This motion picture will have viewers sailing through a romantic odysseytackling life, love, and destiny. Starting August 6, this GMA Films movie willhave its regular run in movie houses nationwide.


SYNOPSIS. Written by Senedy Que and directed by Mark Reyes (the nephewof Direk Joey Reyes), I.T.A.L.Y. tells the story of six people withvarious personalities, ambitions, and struggles. In a span of their magicalvoyage for seven days, their lives will crisscross amid unexpectedpossibilities.

Jolina Magdangal portrays the role of Des Pinlac, a hopeless romanticwho works as a chambermaid at the ship. Finding the right man is her ferventwish but things don't go too well for her. Rufa Mae Quinto is StellaSembrano, the cruise's lounge singer who patiently waits for her perfect man.She has still not given up on love even though she was abandoned by her fatherand her past boyfriends.


Dennis Trillo plays the role of Paolo Guzman, the hunk who is the objectof affection of three women: Des, Stella, and Sophia, his Italian girlfriendplayed by Andrea de Lugo. Paolo joined this cruise in order to discover thetruth about his previous girlfriend.


Eugene Domingo is Lovely Mercado, a senior housekeeper who believes itisnever too late to find true and everlasting love. With two failed attempts totie the knot, Lovely holds the key in connecting Paolo with the woman in hispast. Rhian Ramos portrays Phoebe Villaroso, a rebellious brat who doeswhat she wants. She falls in love with the plain-looking cabin crew memberNathan Reyes (Mark Herras). Orphaned at a young age, Nathan has to workfor his family aboard the cruise ship. He also becomes attracted to Phoebe buthis social class becomes a hindrance to their love affair.


MODERN-DAY HEROES. In the June 19 press conference of I.T.A.L.Y., castmembers shared their thoughts about our fellow kababayans who workabroad.


Mark Herras takes pride in the fact that Filipinos comprised most of the crewmembers of the luxury cruise ship. "Sobrang naging proud po ako at masayahabang nagsu-shooting. Hindi po talaga biro ang ginagawa nila. Around 80percent of the crew ay mga Pinoy." His love team partner Rhian Ramos sharedMark's observation. "Sa tingin ko, they're really something our country can beproud of. They really work hard and sila talaga ang nakabonding namin inbetween takes. And we still keep in touch through email. Nakakatuwa na makitangnaa-appreciate ng ibang taga-bansa ang work ng mga Pinoy."


According to Dennis, he became more understanding about the situation of OFWswhile working on this movie. "Nakita namin yung paghihirap saka pangungulilanila sa mga mahal nila as buhay. Naramdaman namin na ang swerte namin kasi angtrabaho namin ganito at nakapagpasaya kami sa kanila kahit papaano."


"Pwede natin silang tawaging hero pero hindi in the sense na mamamatay silapara sa bansa," says Jolina about the OFWs that they met during their tapingabroad. "Kapag may nakakausap kami na mga OFWs na excited sila para sa bakasyonnila, parang kinukurot ang puso ko. Marangal ang trabaho nila para sa pamilyanila...si Mark [Herras] nga three days pa lang, gusto nang umuwi, e, sila monthsnahihiwalay sa pamilya."


The crew members of the Costa Magica became so attached to the cast of I.T.A.L.Y.that they cried when the Kapuso stars ended their taping.


Unfortunately, Rufa Mae Quinto was not present at the press conference sinceshe was abroad at the time. The majestic cruise ship Costa Magica, owned by anItalian company, was their home during their two-week shooting schedule. DirekMark Reyes describes this ship as big as SM Megamall.


Since the cast members shot this movie while they were aboard the cruise ship,it was inevitable that they would encounter seasickness. Direk Reyes narratedhow they would cope with the instability of the ship.


"Si Dennis nahirapan. Si Jolina, may motion sickness. Lahat sila tinamaanexcept Mark Herras, Rhian Ramos, and me. We hit turbulent waters, umaandar angmga mesa. The best [therapy] there is to go out and look out to the sea, to thehorizon. Dun maayos ang equilibrium ng tenga mo, e."


Moviegoers will be enchanted by the movie I.T.A.L.Y. (I Trust andLove You) especially since it was shot in romantic places such as Genoa,Milan, Savona, Napoli, Florence, Pisa, Rome, (Italy); Marseilles (France);Barcelona, Palma de Mallorca, (Spain); and Tunisia, Africa.


Watch this sidesplitting comedy starring Dennis Trillo, Jolina Magdangal, RufaMae Quinto, Eugene Domingo, Mark Herras, and Rhian Ramos when it opens intheaters nationwide starting August 6, 2008.


Click HERE to view photos of I.T.A.L.Y. (I Trust andLove You) cast members.
ADVERTISEMENT - CONTINUE READING BELOW