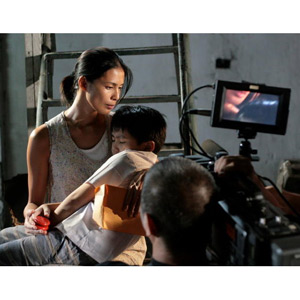 ---

The 2008 Cinemalaya Philippine Independent Film Festival isslated to open with the Adolf Alix Jr. film Adela, which is dedicated toveteran actress Anita Linda. The opening ceremony of Cinemalaya at the CulturalCenter of the Philippines will serve as a tribute to Anita since her pastco-stars and directors are expected to grace the gala night on July 11.

The opening film of the fourth edition of Cinemalaya tells the story of alonely widow who feels abandoned by her children. Produced by Bicycle Pictures,the cast members of Adela include Perla Bautista, Ricky Davao, IzaCalzado, Joem Bascon, Jason Abalos, and German Moreno.

From July 11 to 20, film buffs will troop to the Cultural Center of thePhilippines to watch the 10 films and the 10 short films in competition. Thetheme for this year is "Anong Kwento Mo?" The full-length feature film thatbest represents this theme will win P200,000 plus the Balanghai trophy whilethe top short film will receive P100,000 during the awarding ceremony on July20.

The short films competing this year are: Andong by Rommel "Milo"Tolentino, Ang Ibang Mga Pamilya by Joel P. Ruiz, Angan-Angan (Dreams)by Sheron Dayoc, Diamante ng Langit by Vic Acedillo, Jr., God OnlyKnows by Mark Reyes, Huling Biktima by Vitaliano Rave, My Pet byAnn Bigornia, Panggaris by Dexter Cayanes, Trails of Water bySheron Dayoc, and Tutos by L.A. Yamsuan.


Here are the descriptions of the short films in competition for Cinemalaya 2008:


ANDONG. Six-year-old Andong is obsessed, and nothing, not even hismother's disapproval and constant nagging can help curb his persistentinfatuation. It didn't come out as a surprise to anyone when the precociouslittle boy went into a mad frenzy over the prospect of landing the much-covetedlove-of-his-life. For the impoverishedboy, it takes a miracle to convince his mother to give him twenty pesos. Andongis a story about pre-juvenile obsession and the real value of a hard-foughttwenty pesos.
ADVERTISEMENT - CONTINUE READING BELOW
As a veteran of Cinemalaya director Rommel "Milo" Tolentinowas one of the finalists in the very first Cinemalaya in 2005 for his work Alimuom.The following year, his short film Orasyon (Angelus) won theCinemalaya 2006 Best Short Feature Film award.

ANG IBANG MGA PAMILYA. Spinster Connie Ocampo (Lui Manansala) deals withthe loss of her adopted son, Cesar, a young man with Down's Syndrome. Facedwith sudden emptiness, she occupies herself with the minutiae of the wake. Achance encounter with strangers forces her to evaluate her future. Ang IbangMga Pamilya is director/writer Joel Ruiz's second time to join the shortfilm category. His first entry, Mansyon (The Mansion) won BestShort Film in Cinemalaya 2005.


Playing the tragic character of Connie is LuiManansala, who brings an uncertainty to the hardened character. Shooting wasdone in two days, each day lasting 24 hours, using only paper lanterns.Connie's house is a basement with a lowered ceiling, adding to theclaustrophobia of the piece. The rest of the story occurs in a funeral chapelin Pasay City, where the production staff contended with the wailing, gamblingrelatives of the deceased in the chapels next door.
Lui Manansala is a veteran stage and screen actor, appearingin numerous theater and film productions. He appeared in Yam Laranas' acclaimedhorror flick Sigaw opposite Iza Calzado, in Erik Matti's Pasiyam,and in Lav Diaz's award-winning Ebolusyon ng Isang Pamilyang Pilipino,all screened in 2004.
ANGAN-ANGAN. This short film (the title of whichmeans "Dreams") focuses on a nine-year-old girl named Satra who has beenmute for as long as she could remember. Her determination to secure a goodeducation reverberates clearly amid the strictness of her Yakan culture. TheYakan are one of the 13 Moro groups in the Philippines. They mainly reside inBasilan, Mindanao.

Sheron Dayoc is an independent filmmaker, editor, cinematographer,photographer, painter and writer. Hehas developed several documentary films, short feature films and audiovisualpresentations for various international and local NGOs, government institution,and other private line agencies. He has special interest in documenting thelives of people in the grassroots level, particularly the marginalized peopleand different tribes in Mindanao.


DIAMANTE SA LANGIT. Two brothers journey to compete in a kite-flyingcontest. They're ready to win, but amore precious prize awaits them.
ADVERTISEMENT - CONTINUE READING BELOW

Vic Acedillo became both a screenwriter and producer by accident with hisCinemalaya 2006 film Batad. Thefollowing year, he forced himself to direct his own short film, To Ni. Diamante sa Langit is his thirdproduction.
GOD ONLY KNOWS. In a dirty, decaying slum in thePhilippines, single mother Maria (Angel Aquino) is torn between her love forher 10-year-old son Santiago (Robbie Felongco) and providing a better life forhim. In order to give Santiago a chance to have a decent home and a goodeducation, she decides to send him away for adoption. But what starts out as aninnocent journey to the market quickly turns into a devastating loss for bothmother and son. The short film stars Angel Aquino who has gained criticalpraise for her performance in Donsol by Adolf Alix. Radio personalityBon Vibar also shows his acting skills in God Only Knows.
Mark Reyes emerged in the independent film scene with his2006 coming-of-age story, Last Full Show. Premiering at the ClermontFerrand International Film Festival, Last Full Show's unique vision hasbrought Mark critical acclaim at over 50 film festivals around the globe.
God Only Knows is Mark's second short film that isenjoying a successful run across North America and Europe. Mark is very proudthat his second effort is finally coming home to Manila.
HULING BIKTIMA. Unravel the truth in five minutes.Anton, a top investigator finds himself baffled in a case to find an elusivekiller. The case gets even more complicated when he links his lover, Lisa tothe evidences on the scene of the crime. Then things get out of hand when Lisa,herself walks into the crime scene and is pursued by Anton-only to find out thetruth to his investigation.
Vitaliano Rave was born on October 7, 1985 in ManilaPhilippines. He received formal media education and training from the GrafiskUtbuilding Center for television and radio; and the Film Framåt, both inSweden. He is also an alumnus from the Marilou Diaz Abaya Film Institute andArts Center under the Basic Course in Motion Picture Language. Today, he worksas an in-house editor and motion graphic designer at Globedez in Makati City.
ADVERTISEMENT - CONTINUE READING BELOW
MY PET. Not your typical animation piece, My Pet isa seven-minute animation short about an eight-year-old girl and herrelationship with her first pet, a chick, that is the subject of a class experiment. As an only child and a girl, she issheltered and mostly kept indoors. Shelikes to draw and hold tea parties with her doll as her company most of thetime. It is when she meets this chickthat her world becomes a little bit more dynamic. Her relationship with this pet acts as a catalyst in forming newrelationships. Textures from leaves, plants and native weaving give it a uniqueand creative look, not seen anywhere else.

Anna Bigornia was born in Cebu and went to get her college degree in Manila.She finished her Bachelor of Arts Major in Communication Arts at De La SalleUniversity-Manila in October 2007. My Pet was submitted as her thesis,grabbing the "Outstanding Thesis Award" and was also shown atAnimahenasyon 2007, where it was one of the finalists and won the AudienceChoice Award. Her film has been shown and featured by Propeller TV (SKY Channel195) as part of their showcase on World Cinema. This is her first animation feature as well as her firstfilm.
PANGGARIS. In a small community, therelives a prostitute who was transformed when her deaf brother started to speak.Curiously, nobody could comprehend what he was saying: all he could utter wasthe word "Panggaris." The event became even more puzzling when a documentaristarrived at the community and filmed the siblings. What he discovered is a storyfrom the community folk that possibly marked a new legend.
Dexter B. Cayanes graduated with a degree in PhilippineStudies, cum laude at the University of the Philippines-Diliman. He attendedthe Ricky Lee Script Writing Workshop in 1996 and the Creative Documentary FilmWorkshop in 2000. He has won several prizes in poetry and the short storycategory. He is a candidate for Ph.D. in Philippine Studies in De La SalleUniversity-Manila, where he currently teaches.

The short film Panggaris is based on his poem of the same title whichearned a prize from the state-run Talaang Ginto: Gawad Komisyon sa WikangFilipino sa Tula—Gantimpalang Collantes 2007. One of his newest projects is afull-length film titled Rengga!
ADVERTISEMENT - CONTINUE READING BELOW
TRAILS OF WATER. This is an experimental film about ayoung boy as seen through his make-believe story. His story is about Galeno whostruggles to survive in his everyday life by fetching water near a mining site.The villagers are caught in a mass paranoia when everyone becomes suspicious ofa newcomer in the village. Even though this is a short film, the narrative isquite suspenseful. Violence and intrigue becomes a result of their suspicions. No one knows who the person is until thestranger reveals himself to Galeno.

This short film is also directed by Sheron Dayoc, who has another short filmentry this year: Angan-Angan (Dreams). He is a graduate of Ateneo deZamboanga University and completed Bachelor of Arts Major in Philosophy. He received training in various areas offilmmaking at Mowelfund Film Institute, the University of the Philippines FilmInstitute and Jesuit Communications at Ateneo de Zamboanga University.


TUTOS. This short film shows how the lives of a single father and hisdaughter are intricately bound together. The title tutos refers to the stitchsewn to join to pieces of cloth, particularly those used in making a pair oftrousers. Tutos is a story of a small town tailor Rey and his onlydaughter Elisa. Not having any otherfemale around the house, Elisa grew up being a bit too tough for a lady (or"astig") something her father incessantly complains about.

While Rey effortlessly makes pairs of trousers day in and day out, he agonizesover the cold and distant demeanor of Elisa. How long will it take before Rey creates a seamless relationship withhis daughter? Will it be as easy assewing a perfect piece of garment he so skillfully makes? Boyet, a loyal co-worker, is witness to thistattered and patched relationship that is just waiting to be sewn beautifullytogether.
ADVERTISEMENT - CONTINUE READING BELOW
Filmmaker La Yamsuan earned her degree in Film andAudiovisual Communication from UP Diliman. A passionate writer, filmmaker, and an independent cinema advocate, shehas taken part on several film and television productions both as a student andas a media practitioner. She has alsoworked for The Filipino Channel, ABS-CBN's cable network abroad, and iscurrently an instructor at the De La Salle College of St. Benilde School ofDesign and Arts teaching Basic Video Production and Management for Media Artsstudents.