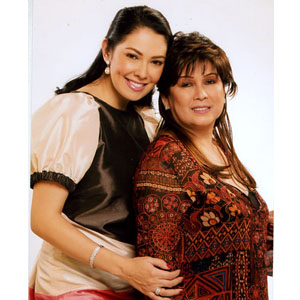 ---
In real life, people always anticipate what Annabelle Ramawill say next.
She's feisty, she's frank, and oftentimes, downright abrasive.Didn't she announce on national television that she considers her unica hija Ruffa Gutierrez as "plastic"?
The lady simply speaks her mind, and whether the showbizdenizens would admit it or not, they would not want to make Annabelle their foe.
And that's exactly what she is in Monster Mom as Esmeralda Fajardo—nagtatalak,naninindak, at kasindak-sindak.
ANG KASINDAK-SINDAK.Annabelle Rama does the monster mom role effortlessly. Whether she's justissuing an order, or giving advice, or sharing a light moment with her daughteror lying in a hospital bed—her screen presence is indeed formidable. The visualcues, like her gigantic diamonds and large rollers, and even the way she callsher kids, all add up to her intimidatingpersonality.
As an actress, the matriarch of the Gutierrezs is a natural.The comic timing is good, her audio is perfect, and there are only a few sceneswhere Annabelle becomes a bit camera-conscious. No one would have thought it'sher first movie and that it's her comeback movie after 37 years of notappearing on the silver screen.
ADVERTISEMENT - CONTINUE READING BELOW
She's a "monster" to the people around her, and undoubtedlya comedienne to the moviegoers.
ANG HINDI NASINDAK.Ruffa plays the role of Abby, Esme's long-lost daughter and "Baby Girl." She's laking Tate, and in Esme's own words,she's "maarte and malandi."
She is a fashionista (her choice of wardrobe is reallyfabulous), sosyal, kikay, and is quite aloof with her newsurroundings. Baby Girl is the exact opposite of Esme when it comes to taste,and especially, views. She's a typical American-bred kid who argues with hermom if she feels she has a point. Of all the characters in the story, she's theonly one who's not rattled by Annabelle's character. In fact, she's more annoyedthan scared of her mom.
Ruffa's onscreen tandem with her mom is a sure-winner! Theirscenes together are utterly spontaneous and hilarious. It's like seeing the twoargue in real life.
ADVERTISEMENT - CONTINUE READING BELOW
ANG MGA NASINDAK. Babygirl'sbrothers, Pipo (MartEscudero) and Boboy (JC De Vera), are completely used to Esme's pagtatalak­—from the moment they wakeup, while eating breakfast, to the time they go to sleep. They are nice kids,meek, and they get the flak for their mom's monstrous attitude.
Michelle Madrigal is the love interest of JC in the movie,while Iwa Moto is Mart's lady love. Michelle has a mom who despises Esme, andIwa is a GRO who's also palaban pero siEsme ay inurungan.
Other characters who have to put up with Esme's katarayan are her amigas Eugene Domingoand Khryss Adalia, her neighbors Sam Lagmay and Vangie Labalan, Abby's friendKaren (Bubbles Paraiso), her maid Chariz Solomon, and even the kanto boys.
ANG MGA EKSENA. Theplot revolves around Esme. Rhian Ramos portrays the young character of Annabelle.
She fell in love with Waldo (played by Richard Gutierrez),got pregnant at the age of 16, and was disowned by her family in Cebu. Shecaught Waldo with another girl, slammed the guitar on his head thrice, and that'sthe last time she saw the dad of her firstborn. Circumstances forced her togive away Baby Girl to her brother, who relocated to New Jersey. Twenty-sevenyears later, Esme's Baby Girl resurfaced to meet her biological mother, whoturned into a monster mom.
ADVERTISEMENT - CONTINUE READING BELOW
Majority of the lines uttered by Annabelle had the peoplelaughing. The script is very good. A showbiz editor said, "Magaling talaga angpunch lines."
Among my favorite scenes is the dinner with Karen, Abby'sfriend, at a posh restaurant. Upon entering the door, Esme's first question,"Sinong magbabayad?" But the classic line she delivered was, "Ang mahal-mahalnaman dito! Bakit, puwede mo bang iuwi ang plato?"
Other portions which are bentang-bentato the viewers: the confrontation with the kapitbahays, the "sugod" moment withher sons and the policemen, and Esme's heart-to-heart talk with her sons andRuffa.
The only part which I found quite redundant was theprologue. It was a bit long, and the transformation of the young andsweet-faced Esme to a fearsome mom was not clearly established and shown.
If I were to rate the movie's overall impact in a scale of 1to five, with 5 being the highest, I'll give it a 4. But if I were to look atits entertainment value, it deserves a 4.9.
ADVERTISEMENT - CONTINUE READING BELOW
During the movie, people anticipated what Annabelle Ramawould say next, and they laughed their heart out.