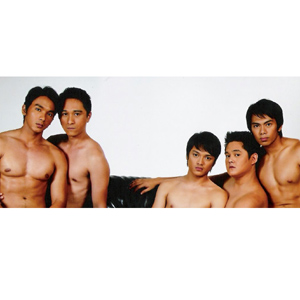 ---

From the team that brought you Ang Lalake Sa Parola andAng Lihim Ni Antonio (considered to be among the top-grossing digitalgay-themed movies) comes yet another powerfully woven tale of discovery andawakening. Kambyo is a story of four men who embark on a road trip notknowing that it will change them forever.
This latest collaboration between Digital Viva and theproduction house BeyondtheBox traces the lives of four boys: cousins Macky(Rayan Dulay, who made a splash in Bathhouse) and Manuel (played by KenjieGarcia, who played the titular character in Ang Lihim Ni Antonio), theirfun-loving friend Xavier (Harold Macasero) and his friend Aldo (Gabz delRosario).
One day, Macky decides to hit the open road to look for hisold friend Philip (Johnron Tanada) and takes his cousin with him. He and Manuelinvite their friend Xavier to join them, who agrees, on the condition that hishunky friend Aldo—whom he met just before they set off in search of Philip—beallowed to come along as well.
ADVERTISEMENT - CONTINUE READING BELOW
As the engine of Macky's old van begins to accelerate, so dotheir relationships with each other. To make a long story short, things betweenthe four traveling companions heat up, allowing hidden desires and pent-upemotions to find release.
The film will be screened on July 5 at the University of thePhilippines Film Center in UP Diliman, with a regular screening on July 9 atRobinsons Galleria, Ermita and Metro East.
While Kambyo touches on some of the issues raised in AngLalake Sa Parola and Ang Lihim Ni Antonio, Jay Altarejos, the manwho directed all three movies, says that Kambyo is done in a differenttone compared to its predecessors.
"Actually light drama lang ito," he says. "Happy pa nga angending." But when pressed to elaborate on this so-called happy ending, herefused to do so. Instead, he rhapsodized about the film's love scenes.
"This much I will say—among the three movies I did, ito angmay pinakamagandang love scene. Not because marami siyang nudity, but becauseit's different compared to the ones in Ang Lalaki Sa Parola and AngLihim ni Antonio. Sa Parola kasi, isa lang ang willing participant.Yung isa was just beginning to explore his sexuality. So hindi pa talagaall-out. Sa Antonio naman, the theme was abuse. Kaya iba din ang feel nglove scenes doon. But in Kambyo, you have two willing participants whoare in love and who go all-out in their love scenes. Kaya iba talaga ito dun sadalawang nauna kong pelikula."
ADVERTISEMENT - CONTINUE READING BELOW
That's partly why he titled the film Kambyo—becauseaside from the fact that it is about four guys on a road trip, the movierepresents a thematic shifting of gears for him, from the theme of explorationin Parola to the darker tones of abuse in Antonio.
Kambyo is lighter and happier overall. Helping togive it that feel were the actors. "They're newcomers, but they're really goodand willing to do kung ano yung kailangan sa eksena basta mapaliwanagan sila,"says Direk Jay.
The team behind Kambyo—which includes writer LexBonife—are hopeful that it will equal the success of its predecessors. Case inpoint: Ang Lihim Ni Antonio will be shown in Rochester, New York inOctober as part of the Image Out Film Festival. However, they aren't resting ontheir laurels. In fact, Lex is already hard at work mapping out plots andthinking up concepts for his next screenplay.
Shift gears with Kambyo when it opens in RobinsonsGalleria, Ermita, and Metro East. starting July 9, 2008.
ADVERTISEMENT - CONTINUE READING BELOW