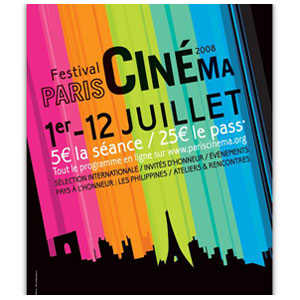 ---
Boasting of "a new generation of film directors, and a [body of work] filled with energy and audacity," the Philippines has been chosen as the country of honor in the sixth edition of the Paris Cinema International Film Festival. According to Jeremy Segay, program advisor of the said film fest, out of the 280 film screenings that will be held from July 1-12, 46 of them will come from the Philippines.
In an interview with Variety, Mr. Segay, an expert on Asian cinema who has assembled this year's retrospective, points out: "There was a kind of a Filipino New Wave at the end of the 1970s with filmmakers like Lino Brocka and Ishmael Bernal. Then for a long time afterwards there was a black hole. It's only recently that Filipino cinema has become rediscovered, in many ways because it has carved out a homosexual niche."

In addition, two Filipino movies will compete against 14 other films chosen worldwide in the feature and short film categories. These are Jim Libiran's full-length film Tribu, which stars real-life gang members, and Alvin Yapan's short film Rolyo, which is about the alternative use of film reel rolls.

Two Filipino directors are given a retrospective in the 2008 Paris CIFF: the late Joey Gosiengfiao, who is dubbed as the John Waters of the country for his campy films, and Brillante "Dante" Mendoza whose works employing "cinema verite" have recently been screened at the Cannes International Film Festival. Direk Dante's films to be screened are Masahista, Kaleldo, Manoro, Foster Child, Tirador and Serbis while Direk Joey's films are TemptationIsland, Bomba Star, Katorse, and Underage.

There are four sections in the special program dubbed as "Country of Honor: the Philippines," namely mainstream, indies, classics and Cinemalaya entries.

The Cinemalaya films are Ang Pagdadalaga ni Maximo Oliveros by Aureaus Solito; Big Time (Mario Cornejo; Pepot Artista (Clodualdo del Mundo, Jr.,), Donsol (Adolfo Alix), Batad: Sa Paang Palay (Benjie Garcia), Pisay (Aureaus Solito), Endo (Jade Castro), Kadin (Adolfo Alix).

The indies are Kubrador (Jeffrey Jeturian), Ang Babae sa Breakwater (Mario O'Hara), Tuli (Aureaus Solito), Ang Huling Balyan ng Buhi (Sherad Anthony Sanchez), Indio Nacional (Raya Martin), Balikbayan Box (Ramon Mes de Guzman), Todo Todo Teros (John Torres), Serafin Geronimo: Kriminal ng Baryo Concepcion (Lav Diaz), and Three Days of Darkness (Khavn dela Cruz).
ADVERTISEMENT - CONTINUE READING BELOW
Mainstream movies are Dekada '70 (Chito Roño), Bridal Shower, (Jeffrey Jeturian), Gagamboy (Erik Matti), Ploning (Dante Nico Garcia), Caregiver (Chito Roño), and Blackout (Ato Bautista).
The classics are the aforementioned Gosiengfiao films plus Lino Brocka's Insiang, Ishmael Bernal's Himala, Mike de Leon's Kakaba-Kaba Ka Ba?, Peque Gallaga's Scorpio Nights, Laurice Guillen's Init sa Magdamag, and Tikoy Aguiluz's Boatman.
Earlier tonight, July 5, the "Evening with Philippine stars" was held at the Balzac Theater in Champ Elysees. Piolo Pascual's movie Dekada '70 was screened back-to-back with Judy Ann Santos's Ploning directed by Dante Nico Garcia.
Sharon Cuneta was also expected to attend the gala screening of Caregiver along with Direk Chito.