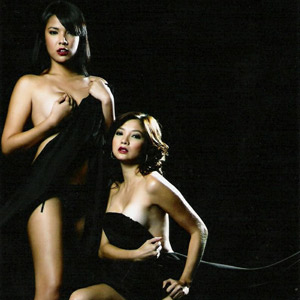 ---

The movie Torotot—mounted by Viva Films andProduction 56—marks Maui Taylor's return to the silver screen after a five-yearabsence and serves as Precious Adona's movie debut.
The stage is all set for an epic yet sizzling battle of thebabes with Maui, the "Hot Babe ng Bayan" going up against Precious, whose sexy photosin the May issue of FHM earned her the nickname "Playmate ng Bayan."
Maui stands out for her smooth skin—which has a pearly sheenthat makes men want to touch it—as well as her youthful and fresh appearance.But that's not all that makes Maui attractive to men. She is also a fineactress whose films have captured their attention in more ways than one. In Torotot,she did her best in every scene in order to provide them with more fuel fortheir fantasies.
Maui is especially proud of her love scene with AndrewSchimmer. "Ikinabaliw ko yun kasi kung anu-anong posisyon ang ginawa namin,"she says.
ADVERTISEMENT - CONTINUE READING BELOW
For her part, Precious is just as appealing as Maui, if notmore so. Men who go for statuesque beauties will find plenty to like aboutPrecious apart from her height. Many men have also fallen under the spell castby Precious's bronze skin and regal bearing.
Of her eye-popping FHM cover, Precious is delightedat the way the public embraced it. "Sabi nila it's one of the sexiest covers ofFHM ever." In the said issue, Precious was photographed wearing a thinasymmetrical piece of cloth that hid her private parts.
Torotot was helmed by Maryo J. delos Reyes, whoselast project, A Love Story—which starred Aga Muhlach and MaricelSoriano—did very well at the box office. This new movie from Viva will likelyappeal to female viewers since it deals with the intricacies of relationships,especially among married couples.


Aside from Maui, Precious, and Andrew, this movie also Baron Geisler and YulServo.
SYNOPSIS. Torotot explores the story of twocouples, why and how their marriages crumble and how their infidelity andpassion brought them tragic endings.
ADVERTISEMENT - CONTINUE READING BELOW
Leo and Marie are having marital problems because the womanis spending too much time with her pet dogs. This prompts Leo, the art directorof ad agency, to have a one-night stand. Marie then confronts her husband about hisinfidelity and plots her own revenge.

Another couple experiencing marital problems featured in themovie is composed of Gabby and Rita. The husband has to deal with pre-matureejaculation but Rita doesn't mind at all. That is until she meets the veryaggressive Gaston (a married meat vendor) who awakens her appetite for lust andforbidden passion.
Torotot will hit theaters nationwide starting August 20.