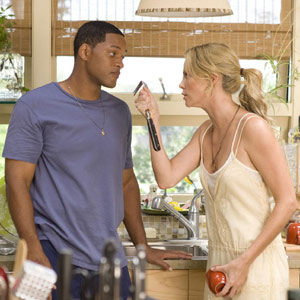 ---

The Philippines warmly welcomed a brand new superhero thatwas originally conceived for the big screen (and not based from comic books).Will Smith's action-adventure Hancock opened at No. 1, grossing ahigh-flying P45.48-million four-day opening weekend nationwide (July 3 to 6) in137 cinemas. This was announced by Victor R. Cabrera, general manager ofColumbia Pictures, which distributed the film.
In Mega Manila, Hancock grossed a staggeringP36.21 million, the all-time biggest opening for a Will Smith film, surpassing1996's Independence Day at P35 million, and last January's I AmLegend at P31.58 million.
This film, which also stars Charlize Theron, posted Columbia'shighest opening for the year (beating last February's Vantage Point).
The Top 20 cinemas that generated the biggest grosses for Hancockare Trinoma (P2.37 million), Glorietta (P2.34 million), SM Mall of Asia (P2.26million), SM Megamall (P1.78 million), SM North EDSA (P1.61 million), GatewayCineplex (P1.51 million), Greenbelt 3 (P1.49 million), Power Plant (P1.43million), Greenhills Theatre (P1.40 million) and Alabang Town Center (P1.33million).
ADVERTISEMENT - CONTINUE READING BELOW
Completing the list are Robinsons Ermita (P1.26 million),Shangri-la Cineplex (P1.08 million), Eastwood Cinema (P1.06 million), FestivalMall (P1.021 million), Robinsons Galleria (P1.020 million), SM Cebu (P924,200), Ayala Cebu (P 855,866), SM San Lazaro (P798,128), SM Manila(P794,812) and Sta. Lucia East (P772,650).
In the United States, Will Smith likewise took home the goldmedal at the box office with his portrayal of a superhero-with-an-attitude. The film opened with a whopping $66M over the July 4 to 6 period and a solid $107.3Msince its launch on night of July 1 with previews beginning at 7 pm.
Hancock tells the story of a tortured superhero whocrash-lands in Los Angeles, causing chaos in the city. Edgy, conflicted, sarcastic, andmisunderstood, Hancock's well-intentioned heroics might get the job done andsave countless lives, but always seem to leave jaw-dropping damage in theirwake. Hancock isn't the kind of man who cares what other people think—until theday that he saves the life of PR executive Ray Embrey (Jason Bateman), and thesardonic superhero begins to realize that he may have a vulnerable side afterall. Facing that will be Hancock's greatest challenge yet—and a task that mayprove impossible as Ray's wife, Mary (Charlize Theron) insists that he's a lostcause.
ADVERTISEMENT - CONTINUE READING BELOW
Still playing across the Philippines, Hancock isdistributed by Columbia Pictures, local office of Sony Pictures ReleasingInternational.