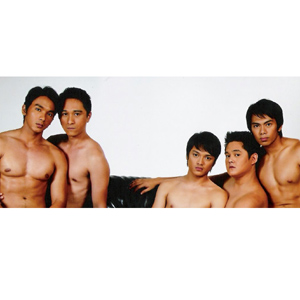 ---
Get to meet the five men who go on an adventure-filled road trip for the digital film Kambyo written by Lex Bonife and directed by Joselito Altarejos.

THE PLOT. It's the last summer of their university life. Cousins Macky (Ray-an Dulay, Bathhouse) and Manuel (Kenjie Garcia, Ang Lihim ni Antonio) start on a road trip to look for the Macky's long lost friend Philip (Johnron Tañada). They bring along with them their fun loving friend Xavier (Harold Macasero), who tags along a hunky guy named Aldo (Gabz del Rosario), whom he just met right before their trip.


As the engine of Macky's old van begins to accelerate, their relationships start on a new journey. Love blooms. Secrets unfold. Insecurities collide. And hidden desires set in.

THE VERDICT. Kambyo is a tale about two cousins, one common friend, and one stranger who go on a road trip north of Manila. What began as a simplesearch for a long lost college friend turns out to be something more. Along theway, each character is forced to confront their deeply held fears and intimatefeelings. The movie ends with the characters growing up a little more by acknowledgingfeelings long denied, fulfilling an aching longing, and gaining the courage totry out something new.
The pacing of the movie starts off slow. Expect to feelimpatient until you get to the latter part of the movie. By then, viewers will be able to see howall the characters have progressed since they started out on this whimsical road trip. Unfortunately, as the movie comes to a close, it fails to deliver an ending with a forceful impact. For those looking forward to steamy scenes and eventhe publicized "full frontal" by Johnron Tañada (who plays Philip in themovie), you just might be disappointed. The movie does not quite measure up to itspredecessors namely, Ang Lalake sa Parola and Ang Lihim ni Antonio.The plot has the makings of an art film but Kambyo failed to meet the expectations of this viewer.
ADVERTISEMENT - CONTINUE READING BELOW
Even though there are weak areas in Kambyo, thereare good points to consider when watching this life-changing road trip undertakenby the five men. Kenjie Garcia, who plays Manuel in the movie, delivered acommendable performance. His debut in the emotionally charged Ang Lihim niAntonio gave him the necessary training and confidence to accept sensitiveroles that other actors will be hard pressed to portray. This results in aconvincing performance that effectively carried other members of the cast.


Harold Macasero, whose character is the lively and whimsical Xavier, provides thecomedic relief in the movie. He can be considered one of the saving graces ofthe film, especially when he delivers punchy lines that can transform dullmoments into interesting scenes. When the plot turns serious, Harold is able toshift his acting style as well and deliver an emotional portrayal of a homosexual man facedwith the very thing he fears the most.
Kambyo will have a regular screening starting July 9at Robinsons Galleria, Ermita, and Metro East.