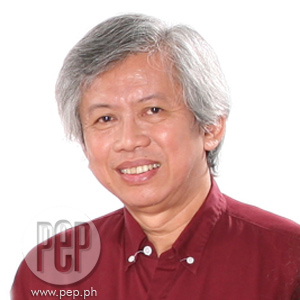 ---

Filipino poet, journalist, editor, translator, andscreenwriter Jose "Pete" Lacaba receives the Aruna Vasudev Lifetime AchievementAward for Writing on Cinema during the 10th Osian's-Cinefan Film Festival. He isalso the recipient of the Centennial Honors for the Arts for his significantcontributions to culture and the arts in the twentieth century. The awardingceremony is set to take place today, July 11, in New Delhi, India.
Pete Lacaba left the Philippines on July 10 to accept thelifetime achievement award that he shares with Mrinal Sen, India's well-knownfilmmaker and a pioneer of the alternative cinema movement. Mr. Sen receivesthe Lifetime Achievement Award for Contribution to Cinema in the said filmfest.
According to the Osian's-Cinefan website, "the LifetimeAchievement honor is given to an author, critic, or scriptwriter fordistinguished contribution to cinema." Mr. Lacaba is currently the executiveeditor of Summitmedia's YES! magazine, the sister publication of PEP(Philippine Entertainment Portal).
Sir Pete (as he is often called) has written the screenplaysof award winning feature films that have been shown at various internationalfilm festivals, including Cannes, Venice and Toronto. His screenplay creditsinclude Jaguar, Bayan Ko: Kapit sa Patalim, Orapronobis, Sister Stella L.,Eskapo, Segurista, and Rizal sa Dapitan.
Jaguar, which was his collaboration with anotheraward-winning screenwriter Ricky Lee, competed at the Cannes International FilmFestival in 1980. Bayan Ko, the Lino Brocka opus written by Sir Pete,also competed in Cannes in 1984. Another work of his titled Orapronobiswas screened out of competition in 1989.
He also authored six poetry collections in Filipino and acollection of English essays on the First Quarter Storm of 1970 titled Daysof Disquiet, Nights of Rage. He is also the editor of a number of books,including The Films of ASEAN and his late brother Emmanuel Lacaba's Salvaged Poems andSalvaged Prose.
ADVERTISEMENT - CONTINUE READING BELOW
In a statement released by Osian's-Cinefan joint festivaldirector Latika Padgaonkar, he says, "We are delighted to honour twoeminent personalities from the world of cinema. Both have contributed in aseminal way to the seventh art and both have placed on their works anindividual and creative stamp."
Two Filipino movies will compete in this year's edition ofOsian's-Cinefan, which concludes on July 20. These are Jim Libiran's movieabout street gangs in Tondo titled Tribu and Jerrold Tarog and RuelDahis Antipuesto's mockumentary titled Confessional. During the 9thOsian's-Cinefan, Cherry Pie Picache won as Best Actress for the BrillanteMendoza film Foster Child.
The Osian's-Cinefan is considered one of the world'slargest festivals ofContemporary Indian, Asian and Arab cinema.