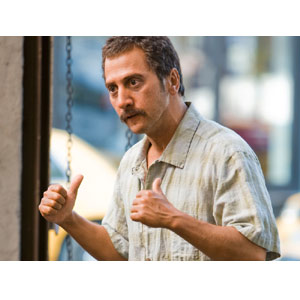 ---

Filipino-American comic sensation Rob Schneider (TheAnimal, Deuce Bigalow: Male Gigolo) is along for the ride inlong-time pal Adam Sandler's latest comedy, You Don't Mess with The Zohan.Schneider's maternal grandmother is a Filipina who met an American soldierwhile he was stationed in the Philippines.
"I play Salim, a Palestinian cab driver who came to New Yorkto fulfill his dreams," Schneider explains his unpredictably wide role. "He has some residual bitterness—he'sharbored a grudge ever since, as a young man, a goat that he was very fond ofwas taken from him by ex-Israeli commando, The Zohan. That stuck with him, so when he sees Zohan, now a hairstylist inNew York, he's shocked by it and plans his revenge."
He adds, "He's not just a cabdriver. He's also a Spiegel catalog salesman. Salim's got about three jobs goingsimultaneously. He's taking fares andmaking sales on the cell phone while he drives."
Screenwriter Robert Smigel says that Salim is a guy whonever got a chance to show the world what he could do. "He's just an innocent cab driver forced towork 14 hour shifts to get by. He finallysees his chance at some fame when he recognizes Zohan. He's jealous of Zohan's arch-nemesis, thePhantom (John Turturro), who's totally blinged-out. He wants revenge on Zohan,but he also knows capturing Zohan would be a coup, and he wants his littleslice of glory."
"I was very flattered that Robert Smigel wrote this part forme," says Rob. "It reminded me of ourbest Saturday Night Live days where we both came from. He handed me a great character and I knewthat I had to knock it out of the park. It's pressure, sure, but it's the best kind of pressure."
To get Salim's accent right, Schneider had the help of acouple of coaches. "I talked with Dr.Salame, a Palestinian physician in Milwaukee. Dr. Salame was nice enough to help me out and put all my lines ontape—and then he did it all in Arabic too."
ADVERTISEMENT - CONTINUE READING BELOW
Memorizing the lines and the accent—that was the easypart. The hard part was staying on histoes. Schneider says, "Adam likes toadlib. So I had all my lines completelydown, with the accent—I've got it on paper, spelled out phonetically—and thenAdam starts to adlib and I'm like, 'Ohhhh.' Fortunately, we had Palestinian actors on the set—I would go up to AhmedAhmed and ask him, 'How would you say this?' We were like the Arabic Bowery Boys. It was a lot of fun."
Schneider, who has been a loyal part of Sandler's films fromthe very beginning, has nothing but praises for his friend. "Adam really did his research, but he foundsomething that was very approachable. Idon't think anybody in the world could have played this part except him. There's a real joy to his performanceSchneider you get to see him having the time of his life."
Opening soon across the Philippines, You Don't Mess withthe Zohan is distributed by Columbia Pictures, local office of SonyPictures Releasing International.