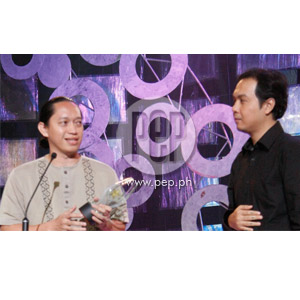 ---

Cinema One Originals' digital movie Confessionalbrought home five major awards at the 24th Star Awards for Movies by thePhilippine Movie Press Club (PMPC) held at Henry Lee Irwin Theater in Ateneo deManila University last June 27.
It bagged the Digital Movie of the Year award, Digital MovieDirectors honors for its young filmmakers Jerrold Tarog and Ruel Antipuesto,Digital Movie Editor of the Year for Pats Ranyo, Digital Original MovieScreenplay for Ramon Ukit, and Digital Movie Sound Engineer for Ditoy Aguilaand Rudy Gonzales.
Produced and released last year, Confessional was oneof the finalists of the annual Cinema One Originals Digital Movie festival andcompetition. This mockumentary has real people in the cast. It follows RyanPastor, a fledgling filmmaker who goes to Cebu to document the Sinulog Festivalbut then stumbles upon an unexpected subject who will make a stunning mark inhis documentary. A former politician who decides to confess all his sins, thecrimes, corruptions and even murders he committed while in office, before Ryan'scamera. What follows is a string of unearthed secrets and sweet lies. Thus, ithas the catchphrase of the movie equation-style: "Lies + Lies =Truth."
Being their first feature film, Tarog and Antipuesto wereoverwhelmed by the success of Confessional when it won the Best Film and StarCinema Special Awards at the Cinema One Originals Awards Night in November 2007at the Renaissance Hotel Makati.
At the PMPC Star Awards, both directors extended theirgratitude to Cinema One's Channel Head Ronald Arguelles who says therecognition of these digital films from the movie press has made the channel'sannual digital movie project and festival a potent venue for young bloods ofthe new Filipino cinema. He adds: "Confessional's success in thefilm awards circuit reflects that Cinema One Originals contributes and brings anew wave of directors, new stories from exciting screenplay writers and youngfilm artists and actors who will keep local filmmaking scene from dying. CinemaOne Originals hopefully aims to offer a wide variety of Filipino stories and todetour from predictable or formulaic stories."
ADVERTISEMENT - CONTINUE READING BELOW
Following its triumph, Confessional will be screenedfor one week at the Robinsons Galleria IndieSine starting August 13, 2008. Confessional is a 2007 production ofCinema One Originals annual movie project. The project and the channel areowned by Creative Programs, Inc.