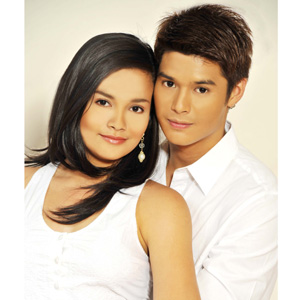 ---

Admirers of JC de Vera and Yasmien Kurdi have continuouslysupported the love team that started in the daytime slot (GMA-7's Pasan Ko AngDaigdig and Pati Ba Pintig ng Puso) to the Kapuso Network'sTelebabad block (Babangon Ako At Dudurugin Kita). When the drama series BabangonAko At Dudurugin Kita concluded a few weeks ago, fans of the JC-Yas tandem eagerlywaited for the next project starring their favorite love team.
The good news is that JC and Yasmien have a new project—onethat will have them acting on the big screen. They headline Studiomax's initialmovie offering titled Loving You. Written by Fairlane Raymundo anddirected by Don Cuaresma, it chronicles the funny, dramatic, bittersweet, andexciting romantic adventures of a group of friends who all work at a callcenter.
JC is Jepoi, a happy-go-lucky fellow who works at the callcenter's IT (information technology) department. While Jepoi is adept at makingbroken computers work again, he is no good at mending a relationship with hisfemale best friend Lane. For some reason that Jepoi is too stubborn to see, hisgood friend Lane has shied away from him.
Yasmien is Lane, an employee who has been recently appointedas second executive assistant to the site account manager. Focused and dedicated, she loses herself andgoes all out whenever her best friend Jepoi is concerned. Lane is even moreunprepared and disoriented when her handsome boss Caleb starts paying specialattention to her.
"Madinig lang ng mga fans na first movie namin ito together,kaabang-abang na!" says JC with pride. Yasmien reveals that she and JC havemore surprises for their loyal followers and lovers of romance films ingeneral. "Marami kaming eksena dito sa pelikula na ginawa namin for the firsttime!" she reveals. "Eto yung mga eksenang hindi ko ginagawa sa TV na iniiyakanko at tinatanggihan ko, nandito sa pelikulang ito! Nakakaloka! Patay ako satatay ko!" To illustrate her point, Yasmien cites the mature kissing scenestaken at the beach. "From first scene to last 'pung' kissing scene!" Yasmiendeclares almost breathless. To which JCplayfully retorts, "So, it's great!"
ADVERTISEMENT - CONTINUE READING BELOW
Since Babangon wrapped up, JC and Yasmien have beenbusy with separate projects but they've constantly kept in touch through SMSmessages and phone calls. Now that Loving You is about to be shown intheaters nationwide, JC and Yas look forward to spending more time togetherthrough the movie's promo, premiere night, and screening.
Loving You also stars Polo Ravales, Jean Garcia, EhraMadrigal, John Prats, Aljur Abrenica, and Kris Bernal. This movie produced byStudiomax and released by Regal Entertainment, Inc. opens on August 20 intheatres nationwide.