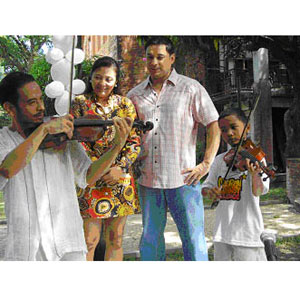 ---

A moving tale about rebirth and the power of friendship, Bosesis the latest cinematic work of veteran writer-director-producer EllenOngkeko-Marfil. She is best known for the award-winning film Mga Pusang Gala.This Cinemalaya entry supported by UNICEF tells the story of Onyok (JulianDuque), a battered child rescued from an abused father (Ricky Davao). Onyok issent to a shelter where he learns how to smile again, forming a bond with areclusive violinist (Coke Bolipata) through their shared love of music. Playingkey roles in this film are mainstream stars Cherry Pie Picache, RickyDavao, and Meryll Soriano.
Onyok's story is shared by thousands of abused Filipinochildren across the country who suffer various forms ofviolence in silence. According to the National Statistical Coordination Board, there were6,933 child abuse cases served by the Department of Social Welfare and Development(DSWD) in 2007. These children were either neglected, physically or sexuallyabused or exploited, abandoned or forced to work.
By supporting this film, Unicef calls for a concerted effortto end child abuse and steps up its Children Against Violence campaign. Unicefis encouraging children to support each other with their "Ate at Kuya"initiative, helping children to speak out and seek help for violence or abuse.These activities and interventions reinforce all children's rights to beprotected from violence and abuse as enshrined in the Convention of the Rightsof the Child.
Unicef's representative Ani Saguisag said of Boses:"It is a landmark film made in the name of abused children all over thePhilippines. It is a story of triumph which illustrates the enduring spirit ofa boy, and his amazing capacity to heal, love and forgive despite being avictim of violence and neglect."
Director Ellen Ongkeko-Marfil considers the film extra-special as it fuses art and advocacy. Most of all, it is a film whichshe could share with her son, Marfil, who grew up in the world of theater. The director believes that each child is a precious gem waiting to bediscovered.
ADVERTISEMENT - CONTINUE READING BELOW
"In Boses, the battered boy Onyok turns out to be achild prodigy. Very dramatic perhaps, but that happens in real life. Imagine ifwe can free all those millions of Filipino children from the culture ofviolence they live with—physical, emotional, spiritual, violence—whew, thePhilippines would be so rich!" she reveals.
Boses is one of ten full-length feature filmscompeting at the fourth edition of Cinemalaya. Sponsors of the film are theDSWD and Council for the Welfare of Children (CWC). With grants from NCCA andFilm Development Council of the Philippines, the gala night is to be heldtoday, July 16, 6:15 pm at the Cultural Center of the Philippines Main Theater.Other screenings are scheduled on the following dates:
July 18 (12:45PM, Bulwangang Alagad Ng Sining / CCP MKPHall),
July 18 (9:00PM, Tanghalang Huseng Batute)
July 19 (9:00PM, Tanghalang Nicanor Aberlardo / CCP MainTheatre)
Tickets are priced at P100 each, with 50 percent discount forstudents. For more information, please call CCP Box Office at 832-1125 local1406.