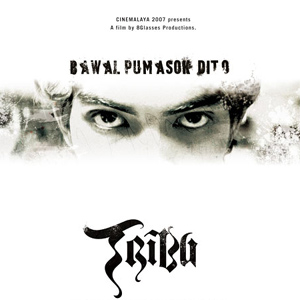 ---

Foreigners have recently chosen a Filipino film about thechaotic lives of gangsters as their "Bet of the Future." During the sixthedition of the Paris Cinema International Film Festival, a jury of students anda film reviewer from French magazine Positif conferred Jim Libiran's Tribuwith the Pari de L'Avenir Award, which translates to "We Bet that the Film Willbe a Classic."
The Best Picture winner of Cinemalaya 2007 is filled withviolence, street fights, and gambling—elements that can be found in the worldof gangsters living in Tondo, Manila. It bested nine other films that wereincluded in the film fest held in France from July 1-12, 2008.
"To be recognized in the city where cinema was born isimmensely satisfying," said Direk Jim. In his acceptance speech, he told theinternational audience: "I come from a country where, for decades, people havebeen leaving for greener pastures. It's heartbreaking, but we didn't know thatby doing so, we were slowly exporting love and care. Now we are exportingculture and arts.


"In front of me and behind me is a whole army of Filipinotalents. And not only that, as you have experienced here in the Festival ParisCinema, Filipinos can fill your movie houses. We are a potent, profitableforce. Let us continue appreciating and supporting each others' culture, and wewill give you 81 million more moviegoers....because through this recognition,through this award, the Filipinos are invisible no more."
Two other awards: the Pari du Jury and Pari du Public were baggedby the light-hearted documentary Young@Heart directed by StephenWalker of the UK. The movie about twenty-four senior citizens singing uniquerenditions of punk, rock, and rhythm-and-blues songs received the main juryprize and the audience award in the Parisian festival.
ADVERTISEMENT - CONTINUE READING BELOW
The other films in competition were:
Adhen (DernierMaquis) Rabah Ameur-Zaimeche, France and Algeria, 2008
Dorothy, Agnès Merlet, France and UK, 2007
Kabei (Kabei - Our Mother), Yoji Yamada,Japan, 2007
Lake Tahoe, Fernando Eimbcke, Mexico, 2008
Mange, ceci est mon corps (Eat, for This is MyBody), Michelange Quay, France and Haiti, 2007
Tejut (Milky Way), Benedek Fliegauf, Hungaryand Germany
Zuo You (In Love We Trust), Wang Xiaoshuai,China, 2008
Versailles, Pierre Schoeller, France, 2008
As for the short film category, Alvin Yapan's Rolyolost to Mirabelle Kirkland's Les Couillus for the audience award and LaSainy-Festin from Annelaure Daffis and Leo Marchand for the jury prize.