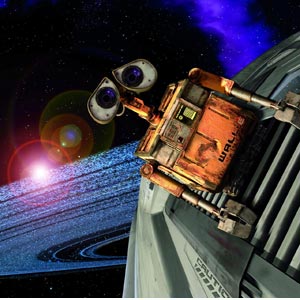 ---

WALL•E (or Waste Allocation Load Lifter Earth-Class) is the last robot left on Earth programmed to clean up the planet, one trash cube at a time. However, after 700 years he's developed one little glitch—a personality. He's extremely curious, highly inquisitive and a little lonely. WALL•E was one of thousands of robots sent by the Buy n Large Corporation to clean up the planet while humans went on a luxury space cruise. He is alone, except for the companionship of his pet cockroach.
WALL•E faithfully compacts cubes of trash everyday, uncovering and collecting artifacts along the way. In fact, WALL•E has amassed a treasure trove of knick-knacks—a Rubik's Cube®, a light bulb, a spork-which he keeps in a transport truck he calls home. A bit of a romantic, WALL•E dreams of making a connection one day, certain that there must be more to life than this monotonous job he does every day. Now, his dream takes him across the galaxy and on an adventure beyond his greatest expectations, in Disney/Pixar's extraordinary new computer-animated comedy set in space, WALL•E.
The image of a lonely little robot—the last one on the planet—methodically going about his job picking up trash intrigued director/co-writer Andrew Stanton from the first time it came up over lunch with his colleagues back in 1994. It would be many years before he would find a unique story that could use this character to its full potential.
Stanton explains, "I became fascinated with the loneliness that this situation evoked and the immediate empathy that you had for this character. I started thinking, 'Well, where do I go with a character like this?' And it didn't take long to realize that the opposite of loneliness is love or being with somebody. I was immediately hooked and seduced by the idea of a machine falling in love with another machine. And especially with the backdrop of a universe that has lost the understanding of the point of living. To me, that seemed so poetic. I loved the idea of humanity getting a second chance because of this one little guy who falls in love. I'm a hopeless romantic in cynic's clothing. This movie gave me a chance to indulge in that romantic side a little more than I normally would in public."
ADVERTISEMENT - CONTINUE READING BELOW
According to co-screenwriter Jim Reardon, "We started with the idea of making WALL•E a comedy, but about a third of the way through, we realized that the film is a love story, too. WALL•E is an innocent and child-like little character who unintentionally ends up having a huge impact on the world. The story arc of the film is really about another robot, EVE. Her character undergoes the biggest change, and the film is as much about her as it is about him."
Co-producer Lindsey Collins concludes, "WALL•E is this unintentional hero. He has the ability to impact humanity, and the ironic thing is that he is the most human thing left on Earth. This little robot actually teaches humanity how to be human again. It's that twist and irony combined with real emotion that I think is going to resonate with audiences."
Opening on August 13 in the Philippines, WALL-E is distributed by Walt Disney Studios Motion Pictures International through Columbia Pictures.