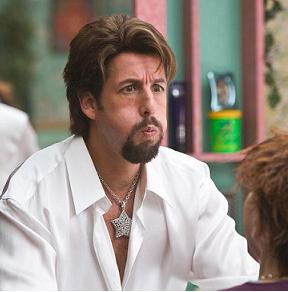 ---
Columbia Pictures' new comedy You Don't Mess With the Zohan starring comic superstar Adam Sandler will have special sneak previews on Monday and Tuesday, July 28 and 29, in selected theaters all over the Philippines.

Written by Sandler and Judd Apatow (Knocked Up), You Don't Mess with The Zohan tells the story of a top Israeli commando (Adam Sandler) who fakes his own death in order to pursue his dream: becoming a hairstylist in New York. Though he wants to put his life of counter-terrorism behind him, he quickly finds that it is not so easy to escape one's roots. As enemies—old and new—try to take him out, they will all come to learn the same thing: you don't mess with the Zohan.

The comedy represents a return to Sandler's roots—playing an outlandish, wild, broadly drawn character, as he did both on Saturday Night Live and early in his film career. "Adam's audience has gotten used to seeing him play characters closer to himself," says Apaatow. "But even though Zohan can do incredible no-arm pushups, he's still goofy and vulnerable like Adam."

Zohan also stars longtime Sandler collaborators Rob Schneider (Deuce Bigalow: Male Gigolo, The Animal) and John Turturro (Transformers, Anger Management, Mr. Deeds) and new cast members Emanuelle Chriqui (TV's Entourage and The O.C.) and Fil-Am comedian Alec Mapa (TV's Desperate Housewives, Ugly Betty).

Opening across the Philippines on August 6, You Don't Mess with the Zohan is distributed by Columbia Pictures, local office of Sony Pictures Releasing International.