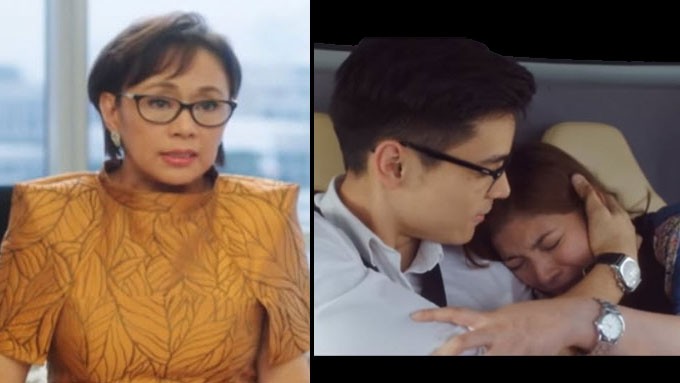 ---

Although Vilma Santos-Recto admits Everything About Her is inspired by the popular novel The Devil Wears Prada and the film of the same title, this Star Cinema movie has that signature Pinoy flavor that tugs at our heartstrings and make us cry "Aray!" where it hurts most.
 
We pity the poor guy that CEO Vivian Rabaya (played by Vilma) fires on the spot (and throws a chair at!) for not closing the deal she wanted.  
 
We long to tell the private nurse Jaica Domingo (played by Angel Locsin), the eldest child in the family, to stop and smell the roses instead of fussing over her younger siblings' needs and wants.
 
We want to hold the hands of Jaica's younger sister after her mother fails to show up during her graduation.  
 
Most of all, we want to wipe Vivian's tears when her only son Albert (played by Xian Lim) rejects her maternal gestures after many years of estrangement from each other.  

 
WELCOME BREAKS. Bright moments, however, provide welcome breaks from all the crying, fist clenching, teeth gnashing, and name calling.

Thank goodness they're as Pinoy as can be again.

We laugh when Jaica missends her rant message on text about her nasty boss to who else but to the "impakta" Vivian herself. It happens in real life, not once, but many times over.

We feel like joining Jaica's little jig when she tells her overjoyed family just how much she expects to get every month as private nurse to this wealthy but difficult woman.

These are but icings on the cake of this touching story about love, family, and forgiveness.

The "Big C" that is cancer gets a whole new positive spin. It becomes the key that unlocks the door to everything Vivian had hoped for as long-time absentee mother of an estranged son.  

The negative turns into positive again, as Vivian's sickness also makes Jaica see her own absentee mother in a whole new light.

Albert, for his part, has his own a-ha moment as a lost son, and a man who outgrows his fears.

As expected, Vilma and Angel shine in their separate acting moments where each lets the other own her scene.

It is Xian who comes out as a revelation. Gone is the matinee idol who made female fans' hearts flutter whenever he looks at  perennial partner Kim Chiu with goo goo eyes.  A serious dramatic actor has taken his place in that crucial breakdown scene that is one of the film's turning points. Xian's agonized cries show that he can make moviegoers feel emotions other than romance, after all.

 
UNANSWERED QUESTIONS. The film is not perfect, though.  Some questions begged for answers.
 
Albert's character development--from a man who didn't look beyond Jaica's role as his mom's private nurse to someone with a key role to play in his life--was wanting. His transition from mere bystander to active participant in Jaica's life was too abrupt.

Another point: the subplot about the absentee mother of Jaica and her siblings can be considered a loose end that isn't even clarified even when the movie ended.

Even Vivian's own sudden conversion paves the way for a simplistic ending that feels unearned.


WHAT ABOUT THE MEN?  Still, Everything About Her can move you to tears, pity and laughter the way a good movie should.

Unfortunately, however, it also puts the burden of child rearing solely on the woman's shoulders.

True, career-driven women like Vivian can sometimes neglect their children. But aren't successful men capable of committing this mortal sin as well?

Why put all the blame on a woman who works hard and gets her just reward, when the man also has a role to play in his child's upbringing?

Yes, women hold up half the sky. But that doesn't mean men can escape from female-associated responsibilities, like making a happy home and raising well-adjusted children.

In highlighting a woman's role in her grown-up son's attitudes about life, Everything About Her has unwittingly laid bare a pressing need for films about men's equally crucial part in a person's development.

Everything About Him could be a good follow up to the Vilma Santos starrer. Let's just hope it attracts a couple of takers.

Directed by Joyce Bernal, Everything About Her is graded A by the Cinema Evaluation Board.




Ed's Note: The "PEP Review" section carries the views of individual reviewers, and does not necessarily reflect the views of the PEP editorial staff.



ADVERTISEMENT - CONTINUE READING BELOW