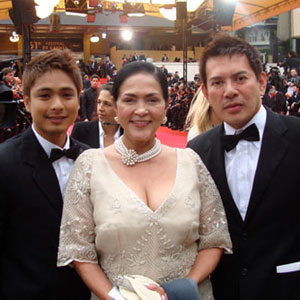 ---

Should we comeout boldly to announce that the country is on the verge of another golden ageof cinema, we are certain of the snickers and whispers that will confront us.Given the dismal performance of Filipino movies in the past half decade, thisis a fair enough expectation. However, those sensitive to the changing natureof the global community, and aware of the speed at which these changes arebeing executed, will agree that it may not be such a farfetched idea after all.
Everyone will agree that man by nature gives out his best performanceon any forum when pressured, with his back against the wall. Life has not beeneasy for the citizens of our country; doubly so for its artists. But it is intimes of strife that the creative spirit reigns freest. That was so during therebellious years under the Spaniards, and again under during the second WorldWar, and now again when the simplest task of surviving is part of a dailygrind.
Gone are the days of plenty when a family had enough for daily needs,education, and leisure. We remember how going to the movies was almost likegoing to church, religiously observed weekly. The domestic industry was healthyand thriving. There were even years, we recall, that the foreign films werebeing clobbered at the tills by local movies. Slowly, however, the picturereversed itself. The industry that churned out as many as 200 films a year wassuddenly without our noticing down to 40. This was when the average family nolonger could afford the luxury of watching a movie a week. That, together withcensorship, plus competition from pirated DVDs, television and other leisuretime activities was when the countdown for the death of Philippine cinemabegan.
ADVERTISEMENT - CONTINUE READING BELOW
Slowly, surreptitiously, a new movement rose to the challenge. This wasthe independent movie—the indies, as they are called worldwide, produced on lowbudget, through personal funding, with a personal vision, usually utilizing thecheaper digital format. The indie was soon being hailed as the new savior forPhilippine movies. It would revive the moribund industry. It would bring backthe golden age of Philippine cinema when Filipino creativity was recognizedinternationally.
This "new" movement, however, was by no means new. From the '70s, filmpractitioners had already been searching for formats away from the traditional.The appearance of a Brillante "Dante" Mendoza on the firmament did not happenovernight. There were years of gestation, filmmakers working privately withoutpromise of recognition. People like Ben Pinga, known as the father of thedocumentary; Eric de Guia aka Kidlat Tahimik whose Mababangong Bangungot(Perfumed Nightmare) won the Critics' Award at the Berlin Film Festivalof 1977-78; the scholars of the UP Film Institute then under Ms. Virgie Morenowhose most brilliant product is Tikoy Aguiluz, founder of the CineManilaInternational Film Festival; Raymond Red who won the ONLY award so far for thePhilippines at the Cannes Film Festival of 2000 with his short Anino.

FILIPINO IN CANNES. When news broke out that Dante Mendoza's Serbiswas competing at this year's Cannes Film Festival 30 years after Lino Brockabecame the first Filipino to be invited to Cannes, it was quite a revelationthat few actually knew the filmmaker. It was because he is not a mainstream director.He is on the fringes—an indie filmmaker. He had been active only for the pastthree years and although his works Masahista, Kaleldo, Manoro (The Teacher),Foster Child, and Tirador are familiar to festival programmers andforeign audiences, they are hardly known in his own country.
ADVERTISEMENT - CONTINUE READING BELOW

Blame it all on the totally understandable mass audience's patronage of thestar system, the influence and love for melodrama, and the general preferencefor escapist material as balm and succor for their problems.

To top it all, when Serbis got panned by some foreign critics, the localpress picked up the negative reviews totally ignoring the positive, and went totown lambasting the film which had yet to be shown.
This was most disconcerting to say the least. We had come this far,only to be received negatively in our own backyard! Director Mendoza isdisappointed, to say the least. Few will understand that his achievement forthe country is nothing to be ignored, much less assaulted with negativereactions. Just like other independent filmmakers, Mendoza has quietly and withoutfanfare been doing a lot on his own to put back the country on theinternational map.
EvelynVargas-Knaebel, Consultant for Philippine Cinema in Switzerland whom we met atCannes could not have put it better:
"The mere fact thatBrillante Mendoza's SERBIS was selected officially at the maincompetition in Cannes means he is good. This is my 11th year at Cannes andsince 1997 people have been asking me what happened to Philippine Cinema. Neverdid I say anything to disgrace our own filmmakers nor our own cinema. How canour films be distributed all over the world if we ourselves do not believe inour product? Can we just stop and give support at this point in time to ourfilms, be they independent or mainstream?
"Thanks to peoplelike Wouter Barendrecht of Fortissimo, Martial Knaebel, former directorartistic of Fribourg IFF and now Visionssudest, Jean Pierre Garcia of AmiensIFF, Aruna Vasudev of Cinemaya and Cinefan, Philip Chea of Singapore IFF, (bothof NETPAC), Ulrich Gregor of Berlin IFF, Dorothy Weener of Berlinale, Alan andPhilip Jaladeu of Nantes IFF, Sandra Denhammer of Rotterdam and the late DavidOverby of Toronto IFF who have helped in bringing Filipino films and/or givingtribute thru a Panorama of Philippine Cinema in their respective festivalsbefore the proliferation of digital/independent cinema.
ADVERTISEMENT - CONTINUE READING BELOW
"It makes me sadreading this kind of negative criticism. It took me 16 years since 1993 to pickup some films (including Escapo) and promote Philippine Cinema in theinternational film community particularly here in Europe. I was then atMowelfund Film Institute, NETPAC and NCCA. It took 25 years after Cannes pickedup another Filipino film in the main competition. We should be thankful to thisnew development for our filmmakers and our own Philippine Cinema. We should bethankful to filmmakers like Mendoza, Martin, Diaz, De Guzman, de la Cruz,Torres and many other young and talented filmmakers for their new works thatare making the world once again look at our cinema.
"We are fortunateenough that we have our own Cinemanila IFF, Cinemalaya, and Cinema Onecontinuously realizing the goal for a better future of Philippine cinema.
"And if I may add what Lino once said: 'I am not here to revolutionize Filipino movies. That is something wecannot achieve with one picture, I am only hoping to pave the way forrevolutionizing. But we are still way, way behind, and it will take perhaps thenext generation to realize that. It is the talented youth of today, whom we arepreparing by training, who are expected to carry on the work we are startingtoday to its full realization'—Lino Brocka, Philippine National Artist for Film."
Closer to home, the Philippine Daily Inquirer carried aneditorial on June 7, 2008 that reads:
"MANILA, Philippines—Despite receiving generally testy reviews at the Cannes Film Festival, the movie Serbis, directed by Brillante Mendoza, should give the nation cause for pride and rejoicing. It is the first Filipino film in almost a quarter of a century to be shown in competition at the world's largest and most important film festival. The last time a Filipino film was accepted as competition entry to Cannes was in 1985, when Lino Brocka's Bayan Ko: Kapit sa Patalim was shown. (Four years back, Brocka's Jaguar had been shown also in competition, the first for the Philippines in Cannes history.) Bayan Ko also didn't win an award, but the following year, the British Film Institute named it best film. Perhaps, Serbis would enjoy the same reversal.

Not that Serbis is a disappointment. To be included in the Cannes competition is already an honor; getting positive reviews and winning an award are just icing on the cake. To be sure, Serbis consolidates the reputation of Philippine cinema as the most exciting in Southeast Asia. Other cinemas in the region can't lay claim to having been screened thrice in competition at Cannes.

The two golden ages of Philippine cinema (the '50s and '70s) should belie claims that the Cannes date of Serbis was a fluke. That a competition movie is lambasted by critics should not embarrass Filipinos so used to accolades easily heaped from abroad on the likes of Charice Pempengco and Madonna Decena. To be included in the Cannes competition means that a film is worthy to be numbered among the notables of world cinema. One recalls the boos that greeted the 1960 showing in Cannes of Michelangelo Antonioni's L'Avventura, now considered one of the greatest and most influential films in history and one realizes that to be savaged by critics and audiences is a compliment, not an affront.

The same low regard for a Filipino film making it to Cannes is evinced in the oft-repeated complaint about why no Filipino film has made it to the Oscars' best foreign language film derby. The complaint shows a blind faith in everything Hollywood and betrays ignorance of the Oscars and most award-giving schemes as basically a marketing gimmickry. Simply put: No Filipino movie has made it to the Oscars because no Filipino movie has the deep pockets to launch a credible and well-oiled marketing campaign to be nominated, much less to win. In 1999, the lightweight Shakespeare in Love won Best Picture over the trenchant Saving Private Ryan because Miramax had spent more to sell the former to Oscar voters than what Steven Spielberg spent to promote the award prospects of the latter.

Therefore, let us appreciate the achievement of Mendoza and Serbis. Mendoza, his great cast and his production company got to Cannes on a low-budget movie done courageously according to the true tradition of Philippine neo-realist cinema. And while we're at it, let's warn that it may take another quarter of a century for a Filipino film to compete in Cannes if the local film industry continues to be taxed mercilessly, censors continue to wield their scissors out of ignorance and complete lack of taste, and the Metro Manila Film Festival continues to be run by politicians in cahoots with greedy producers who have made the event (which produced some of our most brilliant cinematic gems) into nothing but a showcase of tawdry fantasy films aping the worst productions of the Hollywood theme-park entertainment complex."
The Movie and Television Review and Classification Board had initially classifiedSerbis together with its trailer and all advertising material with an X,meaning it couldn't be shown. A tamer version (in its sex scenes) eventually madeviewing possible in the Philippines. The film was given a rating of R-18 and wasscreened in select theaters in June 2008.
ADVERTISEMENT - CONTINUE READING BELOW
Significantly, however, not all government agencies are unsupportive ofthe burgeoning film efforts. When the film Serbis of Dante Mendoza waschosen as a film in competition in Cannes, and Now Showing by RayaMartin for the directors' Fortnight, the participation of both films weresupported by the FDCP (Film Development Council of the Philippines) chaired byRolando S. Atienza with cash, subtitling, per diem for the delegation, and withthe Philippine Embassy under Ambassador Joe Abeto Zaide providing logisticalsupport.

What then, does this portend for the future of Philippine Cinema? Being thecock-eyed optimist that we are, we now feel more than ever before that thethird Golden Age of Philippine Cinema is certainly upon us just around thecorner.