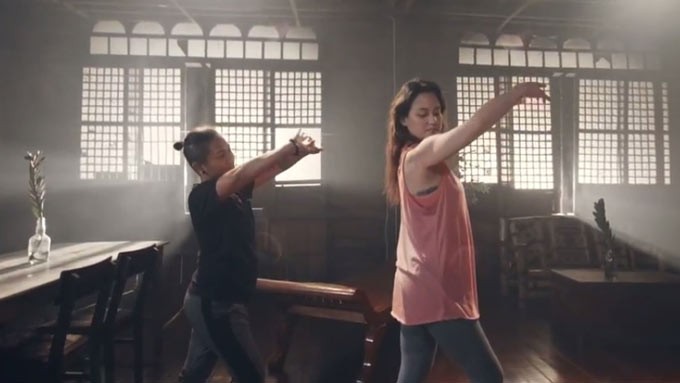 ---

It does not take much to take notice of Lemuel Lorca's latest film Ned's Project, which is billed as a lesbian's desire to carry her own child.
 
A strong lobby by the LGBT community for greater equality and social acceptance in the country after all, also calls for a deeper understanding of their life and loves, their joys and pains. What indeed, would drive someone to go against her sexual norm to bring life into her cruel world?
 
It might be because we are all afraid of dying alone; it is a sentiment as old as time.
 
Ned (Angeli Bayani), a butch lesbian, slugs it out as a tattoo artist in Sampaloc, Quezon, a town where houses are as old as the mores and traditions of its people.
 
But Ned is largely unaffected—even by the constant nagging of her prudish older sister Olga (Ana Abad-Santos)— so long as she can ink a steady stream of clients during the day and make love to her manicurist girlfriend Gladys (Dionne Monsanto) at night.
 
On her days off, she watches a campy talent show called Tibo Tibo, Tiba Tiba (Lotsa Lesbo, Lotsa Money) with her ageing lesbian friend and mentor Max (Lui Manansala) who is suffering from a respiratory illness.
 
One day, Gladys runs away with a man without warning, leaving Ned dejected.

Several days later, Max passes away. Stuck in a near-dilapidated house and suddenly plagued with fear of growing old alone, Ned plots a way to bear her own child.
 
As luck would have it, Ned befriends her new client Ashley (Max Eigenmann) a free-spirited Manileña to help her win in the talent show to raise the money for artificial insemination. But are those sparks flying between them? But what about her peculiar project?
 
Ned's Project is powerful in its normalcy steeped as it is in the language and way of life of social deviants in a rural locale with few prospects. As with real life, the big revelations happen in the middle of mundane chores making it more hilarious than melodramatic most of the time. But when silence comes, it is often profound and morose.
 
Angeli is commendable for a wonderfully nuanced performance. We've seen Angeli in several other good roles such as a domestic helper in Ilo Ilo in 2013 and a struggling wife in Norte, Hangganan ng Kasaysayan (2013) and her performance as Ned is just as tragic even if a bit more comical.
 
The chemistry between Angeli and Max Eigenmann--who needs little acting to radiate charm--is enough to send tiny fireworks flying. When Ned and Ashley come together, time moves a little slower, the world seems a tad kinder.
 
Direk Lem lends a delicate hand in the treatment of sex, making it more romantic instead of titillating, in an effort perhaps to make the film less about physical desire and more about the desire to belong.
 
Ned's Project is a refreshing take on what it means to be a lesbian in a homophobic country but is not a story unique to members of the third sex as the desire for companionship is an inherent hunger for humans. Placing this desire in the heart of a person marginalized for her sexuality, however, gives it gravity.
 
Just as Max wants a tattoo of her younger self on her arm so God will recognize her when she is claimed in the afterlife, Ned is searching for greater purity of life, a sense of warmth and comfort that family can bring.



Ed's Note: The "PEP Review" section carries the views of individual reviewers, and does not necessarily reflect the views of the PEP editorial staff.



ADVERTISEMENT - CONTINUE READING BELOW