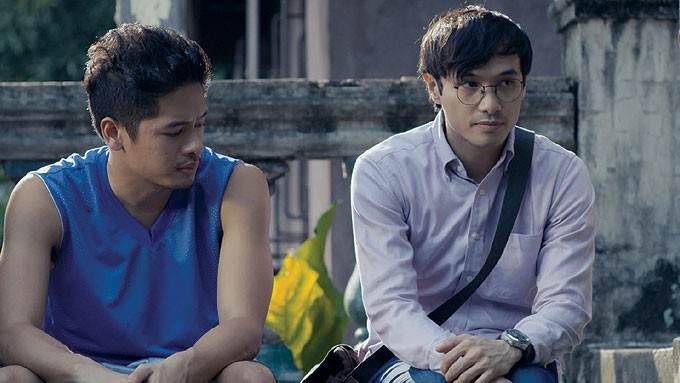 ---

Kean Cipriano is presenting another side of him via the upcoming horror-comedy movie, Echorsis: Sabunutan Between Good and Evil.
While he considers his latest role his most challenging role yet, Kean is excited, nevertheless. What made the task exceptionally challenging, says the Callalily frontman, is portraying a character who happens to be a gay priest.
Such offbeat roles, however, are what make the job more exciting for the 28-year-old actor, who has tried playing different characters in the past years.
"For me, that's the thing naman with acting—you get to be someone you can't be in real life. Like I can't be a priest pero nagawa ko siya because it was my character in the movie," Kean points out.
In Echorsis, Kean takes on the role of Father Nick, an exorcist-priest who is secretly gay. Kean's character is called upon to cast out a gay demon that has possessed the body of a gigolo named Carlo (Alex Medina) after the untimely death of the latter's gay lover, Kristoff (John Lapus).
ADVERTISEMENT - CONTINUE READING BELOW
Being someone who believes in the forces of good and evil, Kean was extraordinarily interested in the role.
"It was also one of the most challenging things I've done in my career and it certainly fulfilled a dream."


"Everything is possible in love"
Since the movie tackles the sensitive topic of same-sex relationships and identity crises, Kean has been asked for his views on the LGBT community.
"I love them, especially in this industry. In anything they do, gay people are really intense, they are bright. I have tremendous respect for them. Hindi naman sa gender nagbi-base ang mga bagay sa mundo. Nasa puso ng tao, sa good intentions," says the singer-actor.
Kean even believes that a straight guy can fall for a gay person because everything is possible in love.
"Of course! In love, anything goes. When you're in love, you go crazy; you don't know what you are doing. You'll drown and float at the same time, so you swim," he muses.


ADVERTISEMENT - CONTINUE READING BELOW
Not quite a comedian
Kean has been doing a lot of comedies lately—on TV or the movies. Still, he doesn't consider himself a comedian. He stresses that the people behind him and the materials he is given are what makes him effective in such roles.
"Hindi naman talaga ako nagpapatawa, ang nagpapatawa 'yung script, ang nagpapatawa yung mismong material, yung director. I'm just grateful and blessed to be part of a comedy production that has good materials."
The musician-turned-actor confesses that he has simply fallen in love with acting and just wants to share the beauty of film making with everyone. He loves being an instrument in telling one's story.
"I'm an actor! Gusto ko lang gumawa ng mga pelikula, whether indie or mainstream. It's all about storytelling. Kumbaga, it's a matter of portraying a character and being an instrument of the director to tell the story that he/she wants to relate to the world," he says.
ADVERTISEMENT - CONTINUE READING BELOW
Kean, who says that he worked with the best people in Echorsis, recognizes the movie's potential to be a hit among moviegoers.
"Laugh trip 'pag napanood nila yung pelikula! Sasabihin nila sa mga kaibigan nila, 'Uy panoorin mo 'tong pelikulang Echorsis dahil natuwa ako.'"
Completing the ensemble cast are Alessandra de Rossi, Chokoleit, Kiray Celis, Mich Liggayu, Ruby Ruiz, Negi Negra, Bekimon, Nico Antonio, Francine Garcia, Odette Khan, and 1:43's Yuki Sakamoto, Anjo Resurreccion, Gold Aquino, and Yheen Valero.
Directed by Lemuel Lorca and written by Jerry Gracio, Echorsis is produced by Chris Cahilig of Insight 360.
"I'm excited for everyone to see it!" gushes Kean.