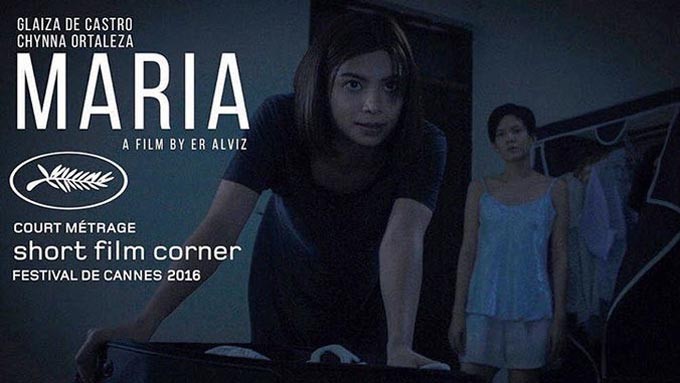 ---

A short film starring Glaiza de Castro and Chynna Ortaleza will take part in the Cannes Short Film Corner this May 2016.

In her Instagram account, Glaiza posted: "So happy to hear that Maria is part of Festival de Cannes, Court Métrage this coming May 2016! Congrats everyone! And thank you @chynsortaleza (alam mo na kung bakit) Fly away Maria"

Known as the Cannes Court Métrage, its official website describes the Cannes Short Film Corner as a section that aims to "develop initiatives, encouraging emerging talents as well as the particular format of short films."

It also allows the creators of short films to network, showcase their works and even pitch future projects.

Maria is described in its official website as a short film "about a late 20's nun who experiences personal warfare on how she will handle her unexpected pregnancy. Going back to the convent, she faces an adverse behaviour that will lead to an unusual decision."  

The director, Emil Ray "ER" Alviz, posted in his Facebook page: "We are very happy to receive the news that MARIA is flying to Festival de Cannes, Court Métrage this coming May 2016!

"Thank you to all the people who supported to make this film possible! To Team Maria, again, thank you for all the passion and heart you poured out in making this film."